BlackBerry 6 / Torch: Clear Browser History and Cache
Posted August 17, 2010 by David Kirk in Blackberry
Need to erase your browsing data? Knowing how to clear your browser history will protect your privacy by preventing others from discovering the sites that you visit. This tutorial will show how to clear your browser's history, cache, passwords, and cookies.
Devices running the new BB OS 6 get the new, beautiful webkit browser. The new browser makes viewing the web much more enjoyable. The more one uses the web, the more important it becomes to protect privacy as well.
Here is how to clear your BB browser's history and cover your tracks:
1. Open the Browser
2. Press the BlackBerry Menu button
3. Select Options
4. Scroll to the bottom of the menu to the Clear Browsing Data section
5. Check what you would like to clear from Passwords, History, Cookies, Cache, and/or Pushed Content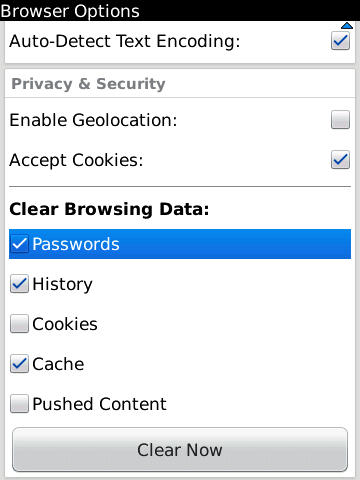 Clearing history and cache should be enough to keep casual viewers of your BB phone from viewing your previously visited web sites.
6. Press the Clear Now button and you see a Cleaning Memory box appear while the information is being removed.
Your viewing history on your BlackBerry should now be gone.
David Kirk is one of the original founders of tech-recipes and is currently serving as editor-in-chief. Not only has he been crafting tutorials for over ten years, but in his other life he also enjoys taking care of critically ill patients as an ICU physician.
View more articles by David Kirk
The Conversation
Follow the reactions below and share your own thoughts.