With time, as more and more applications are installed on a computer, it invariably slows down taking ages to boot. The simplest way to minimize boot time is to use Soluto.
We all have undoubtedly tried myriads of startup managing applications. Each of these provides us a list of processes and applications that get started during startup. They however, do not tell us the exact time they take, i.e. the precise load they exert on a system boot. The result is that we disable applications which may be light, but ignore the heavy time consuming ones.
Soluto is touted as "anti frustration software" and it really delivers on its promises, as there is nothing more agonizing then a long slow boot. Unlike other startup managers, Soluto monitors the boot in real-time and gives the exact time taken by each application during the boot period. It also indicates the risk level of disabling each.
Soluto beta can be downloaded here.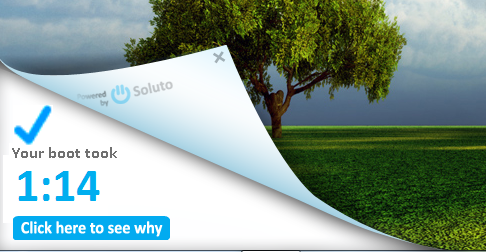 Once it is downloaded and installed, reboot the system. On the first startup after installation, Soluto analyses the various applications started during the boot period and returns an accurate timeline. It then connects to its online knowledge base called the PC Genome project to get a description of the applications it has found on the system. It also gets the user history – what other users have done with these same applications.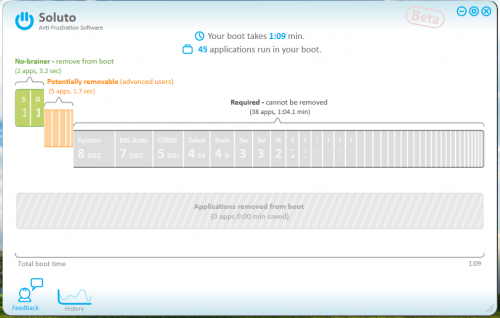 The applications are divided into three colorful categories – no brainer (green), advanced (orange) and required (grey). The no brainers are those applications whose removal will not have any adverse effect on the system and are safe to be removed. The advanced category should be handled with care, as it contains processes which might not be so safe to remove. The required category applications cannot be removed.
As we highlight each entry in the timeline using the mouse, Soluto provides a brief description of the application, history of actions taken by other users and time that can be reduced from the startup time by disabling it.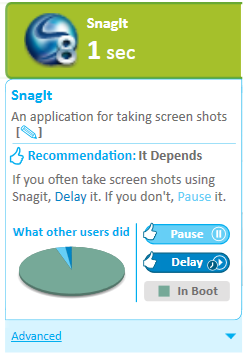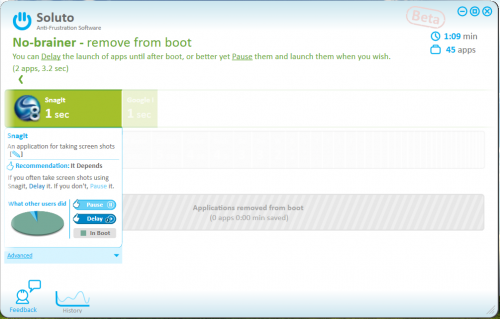 Soluto supports two actions that can be performed on the listed applications in the timeline (no brainer and advanced). It is possible to delay the application wherein the process is not started at boot time but a little later, and pause it where the application is disabled in startup and has to be manually started when required.
Take the desired actions. Soluto shows the projected reduction in startup. Once system is rebooted, the changes are applied and Soluto shows the new boot time.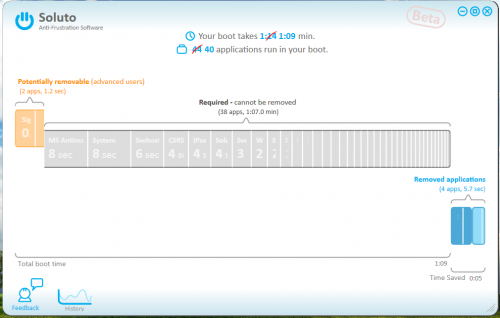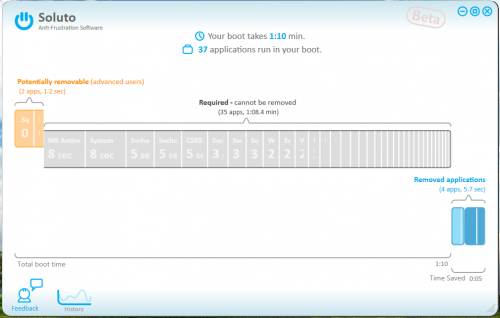 Soluto makes the process of configuring the startup application extremely simple and easy to implement. It also allows us to make an informed decision rather than an ignorant one. This is definitely the best tool to tweak and maintain the system.