Android: Setup Home and Work Locations for Google Now Traffic Cards
Google has just announced and released Android 4.1 Jelly Bean to the developers.  One of the exciting features is Google Now which automatically supplies you information such as weather and traffic about your predicted trip. For this to work correctly, you will need your home and work locations correctly set. Follow these steps to do it.
For example, one nice feature of Google Now is that it allows the user to get a quick idea on how long it will take to make the commute to and from work.   Not surprisingly, you will need to tell Google Maps your home and word addresses for this to work properly.
1. On your device running Android Jelly Bean 4.1, be sure to have the Google Maps app installed.
2. Go into the Maps app. At the top, tap on Maps to bring up the list of features.  Tap on Location History.
3. Once you are viewing your location History, tap on the menu button which is the three vertical dots in lower right. You will get the Change work location and Change home location options.  Tap on each to them to set each location. This allows Google Now to know your home and work locations so it can start pulling data relating to these areas.
4. This should allow the Travel Time card to start showing up in the Google Now area.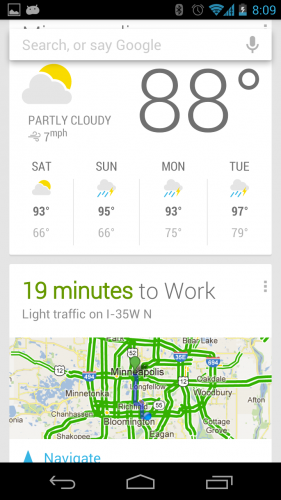 5.You can also update the Google Now card settings by tapping the menu option on the card (the three vertical dots) and changing when the notifications and cards will appear.
Jimmy Selix is an early adopter that loves to be one of the first on the block to have the latest and greatest in technology and gadgets. Another love of his is being able to share his knowledge to others seeking it. Feel free to drop any comments or questions that you may have.
View more articles by Jimmy S
The Conversation
Follow the reactions below and share your own thoughts.