Blackberry Playbook: How to do a screen capture on the Playbook
This tech-recipe will explain how to use the Playbook's built-in screen capture feature to capture screenshots from the Playbook. This can be very useful for creating documentation and guides.
1. In order for screen capturing to work, you CAN NOT be connected to your Blackberry smartphone via Blackberry Bridge.  Due to security concerns, RIM disables the screen capture function when your Playbook is connected to a Blackberry smartphone via the Bridge application.
– If you need to disconnect from Blackberry Bridge, you can do this by going into Settings > Blackberry Bridge, then on the right pane tap the Disconnect button.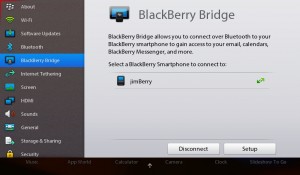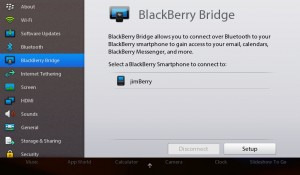 2. On your Blackberry Playbook, go to the screen you want to capture or app (again, none of the Blackberry Bridge apps will allow you to use Screen Capture; ie Messages, Calendar, Notes, Tasks, etc).
Hold the Volume UP and DOWN buttons together and you will hear a camera shutter sound.
The screen capture will get saved to your Pictures > Camera folder on the Playbook.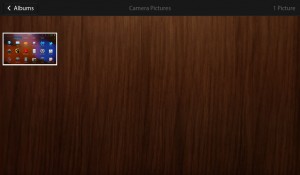 Jimmy Selix is an early adopter that loves to be one of the first on the block to have the latest and greatest in technology and gadgets. Another love of his is being able to share his knowledge to others seeking it. Feel free to drop any comments or questions that you may have.
View more articles by Jimmy S
The Conversation
Follow the reactions below and share your own thoughts.