Did you just recently create a Twitter account or do you have a business that has so many followers on Twitter and you sometimes want to send tweets to them individually but don't know How To Send A Direct Message? Here's a well-detailed article that will teach you how you can send direct messages with ease.
More so, I'll advise you relax and read on because today's tutorial is basically going to reveal the best guide on how to fix that up easily.
The Twitter Platform is an American online news and social networking service through which users post and interact with messages known as "tweets" This Tweets, (messages) were originally restricted to 140 characters, but on November 7, 2017, this limit was doubled for all languages except Japanese, Korean, and Chinese. Twitter records over 330 million monthly active users, about a four percent increase over last year, the number of Twitter users keeps growing because of the amazing Twitter quality service and interesting new features that keep the platform cool and full fill.
There are so many ways to tweet to someone on Twitter, you can either mention or reply. Mentions are public Tweets which means there are visible to everyone while replies appear on the recipient's mentions tab, but only people who follow both of you can see them. And you can also send tweets via text message or on the Twitter website.
But sometimes direct messages are ideal if you want to communicate with a follower about Twitter and other content privately so that only you and the recipient can see the direct messages sent.
Alright, as I said earlier the steps I'm going to show you pertaining to direct messages. So without further ado, I will not want to talk more about Twitter but proceed with the steps that are going to guide you on How To Send A Direct Message To Someone On Twitter. This can be done using your Mobile device.
Here we begin. Read carefully
How To Send A Direct Message To Someone On Twitter
1. Open the Twitter app on your device.
2. Click on the message tab.
3. Tap on the new message icon.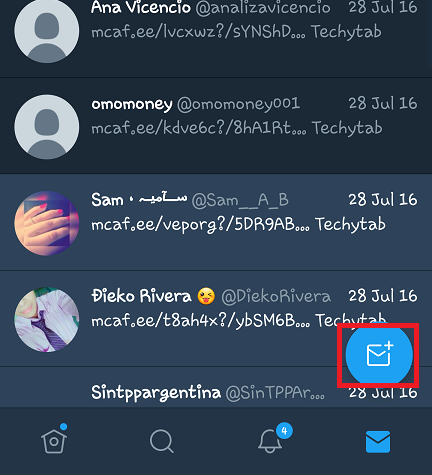 4. Locate the Twitter contact's name and click on it, then tap on Next at the right corner.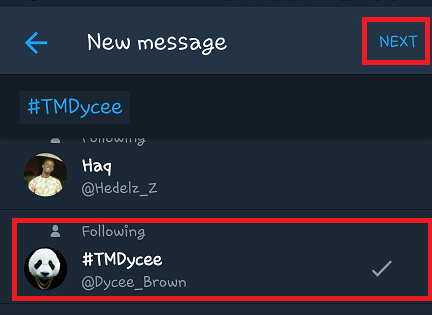 5. Tap on start new message field, type your message in the message field and Then finally Tap on Send.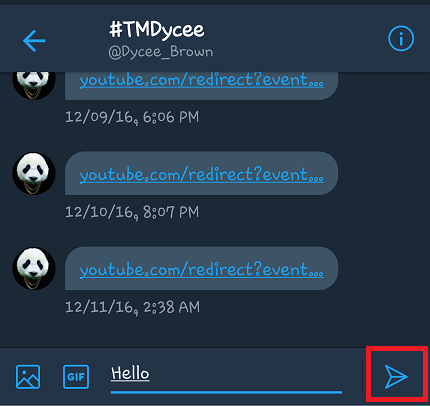 That's How To Send A Direct Message To Someone On Twitter. I'm sure it was easy right? If you carefully followed the steps then you should have gotten it right by now. But for the sake of some readers you in the process encounter difficulties. I will like to let you know that Tech-recipes is always here for you to give you answers to your questions if only you can make use of the comment section below.
Thank you for your time.
Frequently Asked Questions And Answers
Q: Can I delete a direct message or conversation on Twitter and please how can I do that?
A: The answer is Yes you can. Simply press and hold the message and click on the pop-up Delete Message icon that will show on your screen