Free! This word can tempt anyone. After all, who doesn't like FREE things? Whether it is a free music concert pass or free mug of Beer, we can't help ourselves. Right? But remember, all free things are not equal in value, especially when it comes to free WordPress hosting services.
If you will take a closer look, you will find that each hosting service is different in terms of servers they use, customer support they provide, security and other features they make available for you.
So that you can find the right free blog hosting, we have put together a list of top free hosting providers that will narrow down your search for a suitable free WordPress hosting. So, without further ado, let's get started.
#1 000Webhost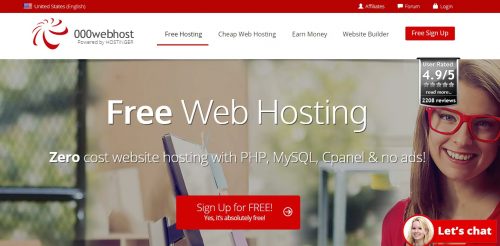 000Webhost is one of the highest ranked blog hosting sites that has been offering free hosting since 2007. Whether you are learning to build a website on the WordPress platform or an aspiring blogger, 000Webhost can be a good platform to start with.
The company has headquarters in Cyprus and data centers in the United States, Europe, and Asia. One thing that stands it apart from other free blogging hosting providers is, it does not enforce their users to run annoying ads on their websites to compensate for free services.
Talking about their free plan, you get 1 GB of disk space, 10 GB of bandwidth, free domain name hosting and a free admin panel. What more you can expect?
Key Features
Support for MySQL databases.

In-built website builder & one-click installer.

99% uptime.

Good bandwidth and server space at zero cost.

Instant activation.
#2 X10Hosting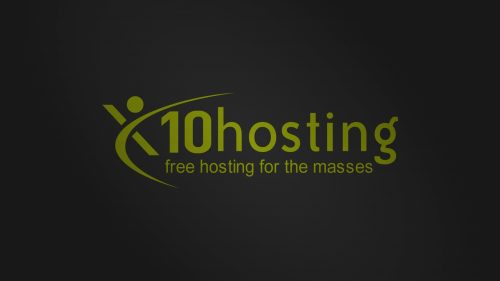 X10Hosting is one of the oldest names in the hosting industry offering free cloud hosting. Being a cloud hosting service provider, X10hosting always gives you that extra flexibility in your hosting. It provides one-click WordPress installation feature right in their control panel that lets you download WP within few minutes.
The company claims that their hosting service is powered by top of the line hardware that is designed to offer blazing fast performance. Moreover, with X10hosting, you get a complete control over your account along with the latest versions of MySQL and PHP.
Key Features
SSD cloud-based hosting environment.

Free website builder.

Beginner-friendly web hosting tools and control panel.

Full control over PHP scripts.

Optimized for high performance.
#3 AwardSpace
Another hosting platform that lets you run your WordPress blog flawlessly for absolutely free. Unlike most free hosting provider, AwardSpace is completely ad-free that means you won't be running any irritating ads on your blog.
You will be glad to know that AwardSpace is an environment-friendly hosting company. Their servers run on wind-generated electricity. So, if you are looking for a CO2-neutral hosting solution, look no further.
Their free plan includes 5GB of bandwidth, 1GB of storage space, 5 MySQL databases and 1 email account.
Apart from free hosting, this German-based company also offers premium shared hosting, VPS cloud hosting, Semi-dedicated hosting, etc.
With AwardSpace, you don't need to worry about any technical trouble as you have 24/7 access to their customer support.
Features
Protection against spam and virus.

Ad-free hosting platform.

99.9% network uptime guarantee.

Complete ad-free environment.

Optimized for high performance.

WordPress and Joomla Installer
#4 Byethost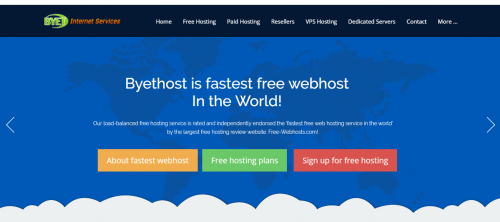 =
As you know trouble doesn't come knocking, you must have 24/7 access to customer support team so that you can deal with various technical issues coming your way. Byethost is the rare breed in the free hosting industry that understands the importance 24/7 customer support.
Byethost has their own clustered hosting network that offers the most powerful networks and load-balancing platform. More than a decade of experience in the industry, Byethost feels proud to announce themselves as one of the best free blog hosting providers.
If we take a look at their configuration, we notice they are offering enough stuff under their free hosting. You get 50 GB of bandwidth limit, 1 GB of disk space, MySQL and & FTP Support, 5 databases, 5 email accounts and free domain hosting.
Like above mentioned free blog hosting companies, Byethost is also ad-free hosting platform. So, sign up and experience an amazing hosting experience.
Features
Clustered Network along with load balance.

Ad-free free hosting platform.

Helpful and friendly customer support.

Access to the control panel.

Reliable and high-speed servers.

You get both File manager as well as FTP account.

Addon domain, subdomain as well as parked domain.

 
#5 5GB Free
As you can guess by the name, 5GB Free offers 5GB of free disk space. But what you can't guess is that they also offer 20 GB of bandwidth, 3 MySQL databases, and PHP scripting as well.
No matter whether you want to start a WordPress blog or an eCommerce website, you will find resources offered by 5GB Free sufficient.
The company was founded in the year 2007 and since then it never looked back. All their servers are located in the highly secured tier 4 data centers having advanced security systems, and hi-tech cooling systems.
The company lacks email hosting but they are proud of offering state-of-the-art hosting platform. They have a Cloud Linux operating system. At any hosting company, you might be paying between $20 and $25 for the same cutting-edge technology.
In their free hosting, you get support via forums only. However, if you want to get support over the phone, you will need to upgrade to their premium plan that costs $2.95 for a month and offers unlimited bandwidth and disk space.
Features
Servers housed in a Tier 4 data centers.

Excellent server speed.

Adequate bandwidth limited and server space for a WordPress blog.

Easy 1-click install for Drupal, WordPress, ZenCart, etc.

No ads on free accounts.

Quick Forum Support.
Final Words
Blogging on WordPress shouldn't be expensive. After all, WordPress itself is free to download, install and use. We hope this list of 5 best free WordPress hosting services will help you choose the right free WordPress hosting and get your WP blog online without paying a single dollar!