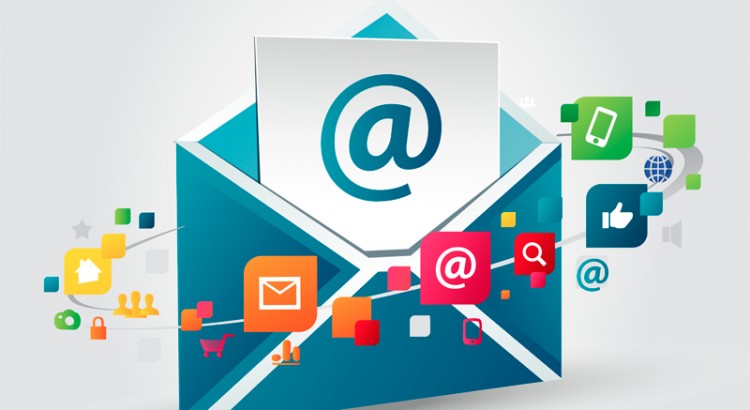 For any online business, an email is one of the most important tools to communicate with their target audience. Whether you are a blogger or run an eCommerce store, an email service helps your business in a plenty of ways. For instance, it increases your brand recognition, enhances credibility, attracts new opportunities and lets you connect with your target market smartly.
When an email has so much to do for your online business, why don't you set up a professional domain-specific email address that is linked to your site's domain name? There are several email hosting providers available that can give you reliable, efficient and professional email hosting services.
So, if you're looking to give your online business a new height, you may look for the following best email hosting for 2018, loved by millions of users across the globe.
Rackspace Email
Started in 2001, Rackspace Email is the Texas-based email hosting company offering a wide range of email products for users of different levels and budgets. The good thing is that even their basic plan has sufficient resources for any startup business. You get 25GB mailbox space and spam & virus filters at a $2/per month. This service is accessible via webmail, outlook, and mobile devices.
Speaking of their 'Plus' account, it gives you 30GB of cloud storage, along with Microsoft Office compatible applications, Activesync Support and instant messaging for just $3.50 per mailbox.
If you think above plans are too small for your requirements, you may look for their advance plan, called 'Extended Plus' that comes with the unlimited storage. There are some more advanced plans for demanding users at Rackspace Email. It seems the provider has something for everyone.
Rackspace is also known for its 100% uptime and responsive support team that is available 24 hours, all 7 days of the week. As per your own convenience, you may choose to interact with their support team via Live chat, Ticket, and Phone support.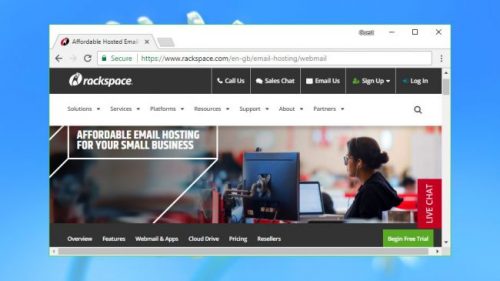 Microsoft Office 365 Business Essentials
Undoubtedly, Microsoft Office 365 Business Essentials is one of the best email hosting services for 2018. You not only get the trust of Microsoft but also a powerful email hosting service that includes a complete set of Office applications.
Moreover, you can send an attachment of up-to 150MB that is almost 3 times in the size than their competitors.
Talking about the storage per user, you get 50GB along with a custom email domain address. In case, you don't find this space sufficient, you can use 1TB of online storage accessible via your OneDrive account.
There is one more thing that makes this hosting the best email hosting for 2018 and that is, online access to MS. Word, Excel, PowerPoint and OneNote. You can work with these applications within your browser. Isn't it a great thing?
Coming to the pricing, it is quite budget-friendly. The initial price for their Business Essentials is $7.51 per month (for an annual plan). However, people who need a robust email hosting environment can go with their 'Business Premium Plan', starting at $9.09 (with an annual commitment). Along with all the services of the basic plan, you get facilities like Skype for Business, Yammer (a social networking platform for private communication), etc.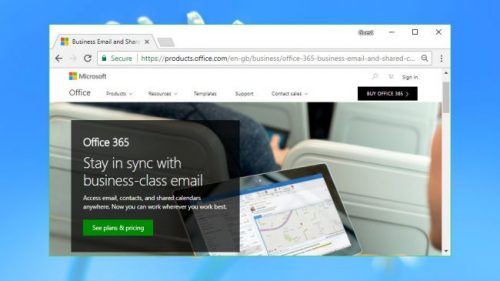 Fasthosts
Have you got frustrated looking for email hosting providers that are budget friendly? Fasthosts seems an ideal option for you. Originally, the company was started by Andrew Michael in the year 1989 and today it is a well-known name in the industry.
If you're on tight on budget,  you may go for their standard Email hosting service starts at $2.57/per month (on the annual plan). However, this plan supports only a single website and comes with 10GB web space. If you don't need of gigabytes of space, you can stick to this pocket-friendly plan.
Nevertheless, you always have options to upgrade your service anytime. As per your needs, you can choose their premium plans called 'Exchange Email' and 'Office 365'
Exchange Email costs $3.86/mo and gives you mail storage up-to 15GB along with protection against anti-virus and Spam. Additionally, you get a free domain for 1st year as well. While with Office 365, you get 50GB mail storage at the cost of $10.33.
Regardless of the plan you choose, they offer you 24/7 support that makes them both affordable and reliable.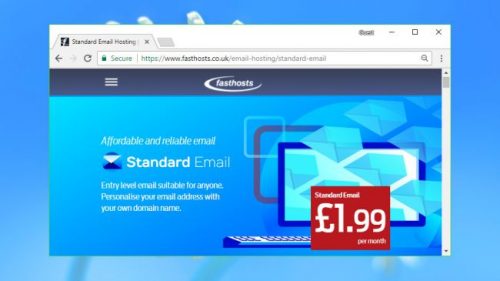 Zoho
This list of best email hosting services for 2018 could not be completed without mentioning Zoho. After all, the provider has brought a significant improvement in their services. Today, it boasts a range of options you can choose as per your budget and requirements.
Even their free plan lets you relish 25 mailboxes (5GB per user), 20 MB attachment and a webmail access without any ad.
Now you might be willing to know what features their standard plan includes then! Well, their standard plan offers you 30 GB of storage, 30 GB attachment along with POP and IMAP support. And that's for the cost $3 per month, per user.
Talking about their professional plan, you get 1TB of storage space, up to 40MB attachment, Active directory groups, etc. for $6 per month.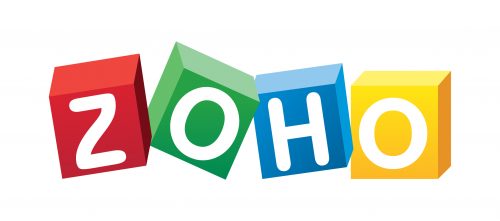 LiquidWeb
Starting at $3.95 for a month, LiquidWeb is an ideal email hosting provider for those who need high-end email services. With their starter plan, you get IMAP, POP, and SMTP access.
This plan lets you attach file up to 50 MB and store data up to 25 GB. Features do not end here, LiquidWeb allows you import contacts straight from Gmail and Outlook.
The best part is unlike other email hosting services, in LiquidWeb, spam protection is managed by an advanced Cloudmark technology that allows you to set up custom email filters and rules as per your own requirements.
Speaking of their plans, you have 3 options:
Standard ($1/per month)

Plus  ($3 per month)

Microsoft Exchange ($10/per month)
See their features in the following screenshot.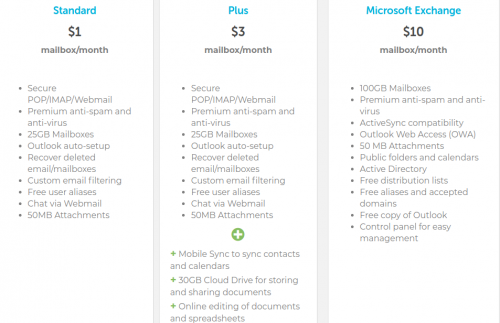 Final Words
If you want to communicate effectively with your visitors and give your online business a professional touch, you shouldn't ignore the importance of a good email hosting provider. Hopefully, our guide to 5  Best email hosting for 2018 will help you get the right one.