Gmail has increasingly grown its user base, Gmail now records about 1.5 billion monthly users. Every online service provider dreams of providing interesting and useful new features to stay ahead in this jet age and as such, Gmail has rolled out a new interface to provide better service for its users. this new interface is really cool and I am going to show you how to switch to the new Gmail.
Google announced a huge update to Gmail, adding features such as high-priority notifications, confidential mode, and better offline support.
Gmail's new interface is rolling out to users. It offers the familiar simple text-based interface from the usual Gmail you all know and are acquainted with, but it claims to be more useful. If you want to take it for a spin, then switching it on is easy. Not all features will be available to Gmail web at launch. The immediately available features include smart replies like that of the Gmail mobile version, the option to snooze emails, and a new tool panel on the right side of Gmail's interface for easy revamped access to Tasks and calendar.it also features a 'confidential mode' that protects outgoing emails
The process to get the new look and features will depend on the type of Google account you have. If you don't have the option to enable the new feature, whether you're a G Suite admin or a regular user, keep checking back.
However, a lot of Gmail users have laid complaints on the new Gmail design, after they had a switch to the new Gmail they did not get satisfaction (interface wise). But trust me, you never can tell until you switch to the new Gmail and explore its swift design and added features. Everyone has a taste of what they like and how they like it, so, what are you waiting for? Switch to the new Gmail on the web and enjoy. the good news is that you can switch back to the old version (interface) after checking out the new Gmail, that is if you wish.
Want to switch to the new Gmail?
Now that you have an in-depth knowledge of what the new Gmail looks like and what it has to offer, let us proceed on how to switch to the new Gmail.
How To Switch To The New Gmail
1. Log in your Gmail account via the web.
2. Click on the settings gear icon at the top right of your screen.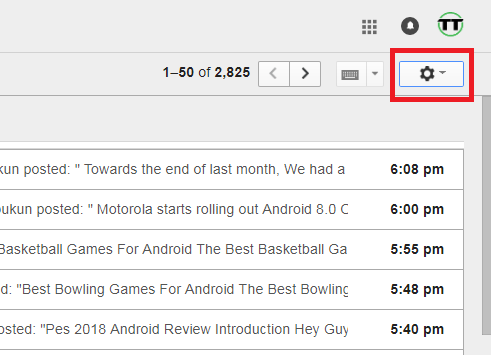 3. Click on "try the new Gmail".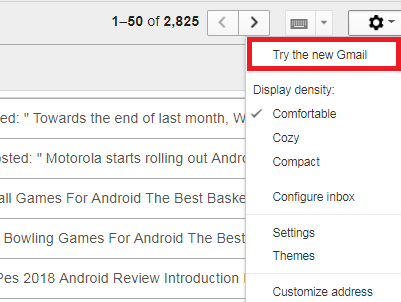 You can also customize your Gmail to look the way you would love by exploring the display density and activating themes.
Note: Reverting back to the more familiar layout still allows the option to change back to the new version. Simply go back to Settings and click "Try the new Gmail".
When launching the new Gmail for the first time, users will be able to select "default", "comfortable" and "compact" mode.
Frequently Asked Questions and Answers
Q: Can I revert back to the old Gmail after I try new Gmail?
A: Yes, as I earlier stated, you can revert by just following the same process.