Binverse is a feature packed Usenet service that will please both newsgroup beginners and experts. From searching to downloading, Binverse's combined software and service makes utilizing Usenet a pleasure.
I get multiple offers a day from companies asking us to review products and services. Most of them are garbage that are not even worth our time. However, when I first logged into Binverse and grabbed a few files, I knew that this was an exceptional service.
Let me take a step back for our newbie visitors. Usenet is an Internet discussion network initially created by UNC and Duke that has existed for about 30 years. Anybody with access can download and post articles; however, it's popularity in this function has been diminished due to the growing popularity of forums and mailing lists. The popularity of Usenet has continued as a file-sharing service. Files (or "binaries") are uploaded as multiple–sometimes hundreds– of messages. These files can be downloaded and recombined by the users who want to use these files.
Using Usenet effectively requires four steps–access, search, speed, and rebuild. Binverse combines the first three of these four steps in an effective and efficient manner. Like all Usenet users, you'll have to learn about the unique process of rebuilding and repairing binaries on your own. Binverse, however, does a great job getting you to that point.
Access–
Binverse provides access in a very intuitive manner. Once you sign up for an account, you download and install the Binverse software which is available for Mac or Windows systems. The first time you run the Binverse client and enter your login information, you are prompted with a quick start guide.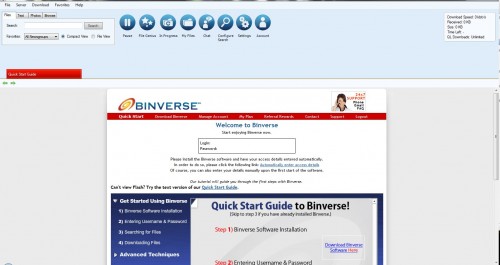 Subsequent opening of the client displays a view of Binverse's front page. This is my one minor knock against the service as this page is confusing. Since it's showing the main web page, it appears to be asking you to sign up again. At this point, just ignore the web page and jump straight to the search box.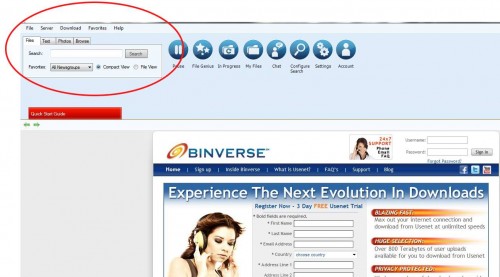 Search–
Searching is divided into files, images, and text. Each search can be searched again to better focus the results. Considering the amount of data available, sub-searching like this is very useful. The search is very quick, and each search is created on a new tab instead the client for organization. Here's a file search.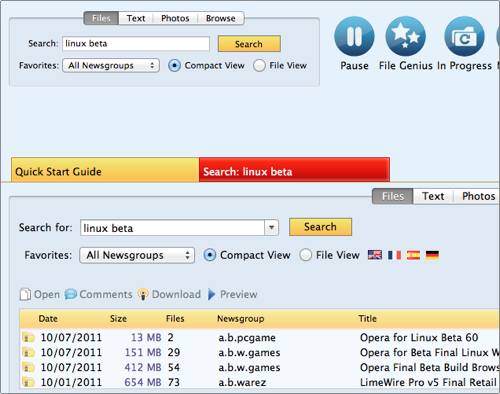 Any image search yields a ton of files all with thumbnail previews. Double-clicking an image starts a full size viewing window which can also be used to stream as a slideshow. The viewing window has forward and backward arrow to display the next or previous image in the search. Here's an example of the thumbnail preview.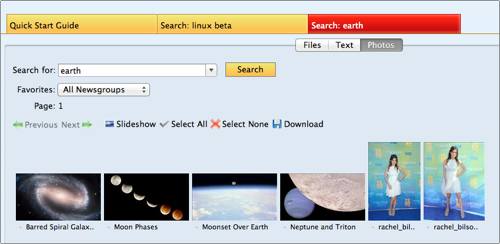 The text searching in Binverse is the weakest area. It just uses Google to search newsgroups. Of course, most people can find multiple ways to access the text within Usenet for free. People using the Binverse service are mainly doing it for the binary access. It is of little surprise that the text functions are weak.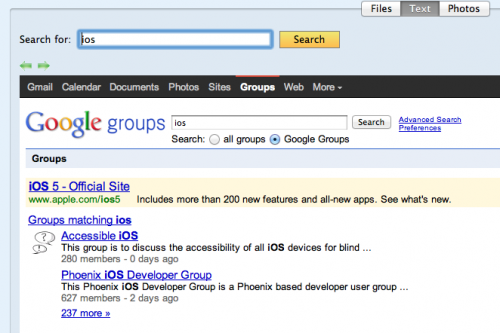 Speed–
After a file search is done, downloading can be accomplished by two methods. At the right end of the file is a convenient download button. Press this will automatically attempt to download all the sections of the selected file. As Usenet files frequently have sections missing, pressing the icon at the left end of the file will display all the sections. These can be selectively downloaded as desired.
Traditionally, Usenet has been a slower method for downloading files. However, since Binverse has uncapped access, I have found that Binverse is typically a much quicker download than using a torrent system. At night, the downloading speeds are screaming. During the day, Binverse is still quicker than the other Usenet services that I have used in the past. The uncapped speeds are really impressive.

Additionally–
I did find a couple of bugs. In the OS X client, I found that searching for more than one word at a time caused a crash. Most people won't be using the text search so it's of little consequence. Occasionally, after multiple image reaches, an image search would just come up empty. Restarting the client would fix the issue.
For the power users, external newsreaders should work fine, proxies are supported, and four different search servers are available. Where to place and organize the files is highly configurable.
From the main Binverse website you can sign up for a free 3 days. Your plan will determine how much uncapped (super quick) and capped (slower) bandwidth you are allowed each month. The uncapped limits are very reasonable, and I suspect few users will use up their monthly uncapped amount.
Considering I've been using Usenet for over 20 years now, I am very impressed with Binverse's service.
This review, like all reviews on tech-recipes, is independent and unsponsored.