By default, all of your recent activities will show up in your Facebook timeline or profile page. This means everybody in your list can see what you are doing on Facebook. If you want to hide those activities from your friends, this tutorial will help you.
To hide Recent Activities:
1. Log in to your Facebook account.
2. Go to your profile page.
3. Find the Recent Activity section on the page.
Click the X button at the end of each activity -> Hide All Recent Pages from Timeline… for the Liking activity.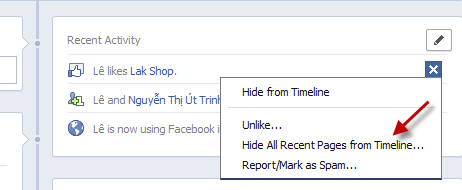 or choose Hide Similar Activity from Timeline… for other activities.

4. If you hide all activities, your Recent Activity section will look like below.

To unhide Recent Activities:
1. Go to the Recent Activity section.
2. Click on the small pencil icon -> Hidden Activity…

3. Click X next to the activity that you want to unhide. Hit Save button to update the changes.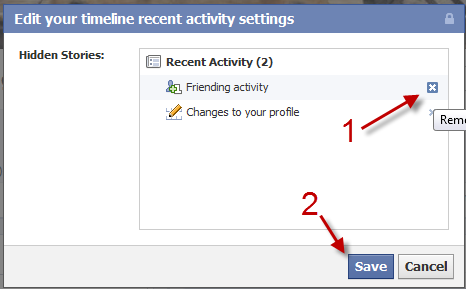 Note: The difference between Hide from timeline and Hide similar activity from the Timeline…
Hide from timeline: Only hide that single activity from timeline. That type of activity will still appear in the future. Can be unhidden from the Activity Log.
Hide similar activity from the Timeline: That type of activity, even in the future will not appear anymore. Can be unhidden.