LinkedIn is renowned for its privacy and not just as being the most professional job platform out there today. The more features there are on it, the stronger are the privacy checks and algorithms keeping your data safe. Sure, the option to keep your friends' list even exists on Facebook…but LinkedIn's privacy measures are far stronger. Here, they aren't called 'friends.' It doesn't sound LinkedIn-professionalism. Nor is it called a 'friends' list.' LinkedIn refers to them as 'connections' and 'connections' list,' respectively. And you can keep this list private. Below you will find out how to keep your connections' list private on LinkedIn.
Keeping your Connections' List Private on LinkedIn
This method has been illustrated using the LinkedIn Android app. However, it follows pretty much the same pattern and steps on the desktop version as it does on the app.
1. Go to your LinkedIn profile from the homepage.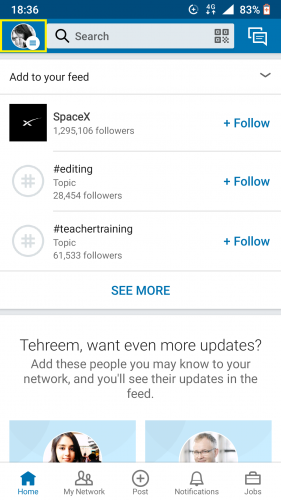 2. And tap on Settings.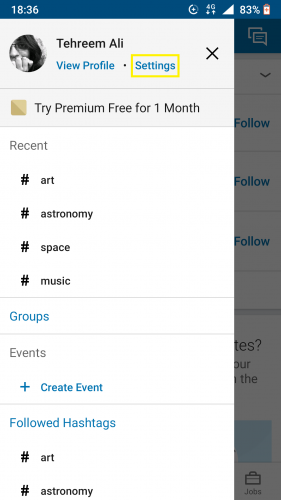 3. Open Privacy.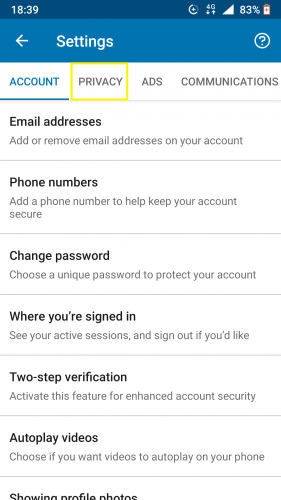 4. Scroll down and select Who can see your connections.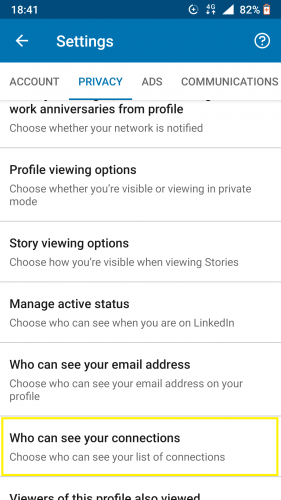 5. You will be redirected to the Connections visibility page.
6. Tap on Only you from there.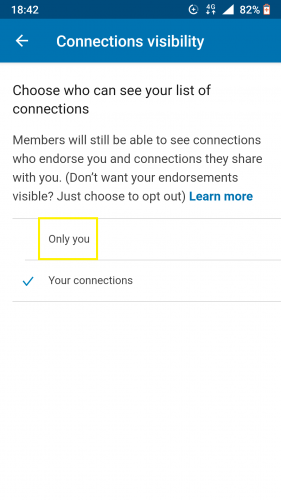 7. Wait for the setting to be saved.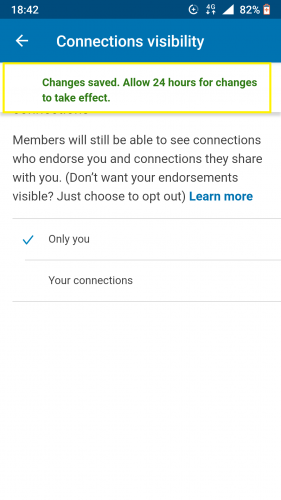 And you have successfully privatized your LinkedIn connections' list in less than 10 steps!
Frequently Asked Question
1. Will my contacts be notified of this change?
No. This is just a privacy setting only YOU are aware of. However, remember that no matter what option you select, your connections' list will never be private from your 1st degree connections on LinkedIn. They will always be able to see your connections, for this lets them browse for mutual colleagues and such.
2. Does keeping connections' list private make all sorts of connections private?
When you opt for making your connections' list private on LinkedIn, you can see the message above. It reads, 'Members will still be able to see connections…' What this implies is that other LinkedIn members who have given you endorsement(s) will still be visible to the rest of your connections. Similarly, connections shared with you will also be visible to your contacts. All these rules apply for your 1st degree connections on LinkedIn. Furthermore, when you make your endorsements invisible, connections who endorsed you will automatically become private, too.
3. Does this affect how I apply for jobs?
For some jobs, yes, especially in cases where companies you've applied to might want to get an idea of the sort of connections you have. Reasons they might want to view your connects can vary, but they are mostly related to companies developing your personality sketch.
4. Is this setting permanent?
No, you can come back and make your connections' list visible to others at any time.
5. Can I share a profile if I have kept my connections' list private?
Yes.
Check out the Video
You can also check out a video dedicated to privatizing your LinkedIn connections' list.
More on LinkedIn