Wondering how to send gif on Whatsapp? Well, this was a non-existent feature on the highly popular Facebook-owned texting app, not so long ago. However, things have changed now. Users now will get the opportunity to send lively animated images to their friends via Whatsapp text. Some people are still unaware of how to use the feature, so in this article, we're going to do an in-dept tutorial on what this new upgrade brings to the table. Trust me, more than just the ability to send gifs has been imbued in the pervasively used messaging app.
Also, keep in mind that if you're using an outdated version of the app, this new feature will not appear on your Whatsapp application. So, make sure that you update your appe before proceeding.
Step-By-Step: How to Send Gif on Whatsapp
The instructions are simple and precise. We're using an Android device for this guide, but the process is relatively similar on other devices as well.
1.Open your Whatsapp application and open the chat of the person you want to send the gif to.
2. Click the Attachment icon on the bottom right corner and select Gallery. Choose the gif of interest from your phone's gallery. You can also choose multiple gifs. After doing so, tap on the tick on the top right corner.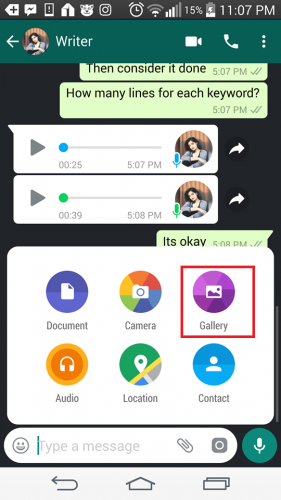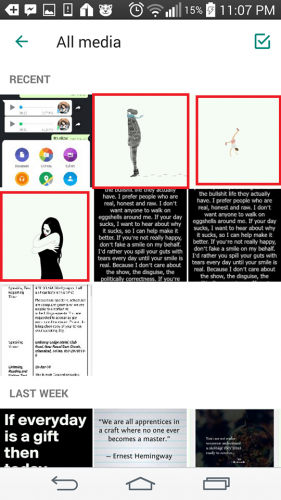 3. Next up, in the preview, you can add an emoticon, text or make other alternations before finalizing your selection. Tap on the arrow, when you're done.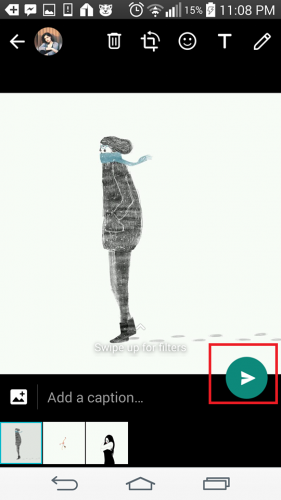 How to Convert A Video Into a Gif
You can also convert your videos into gifs. All you have to do is select a video from your gallery while sending it to a contact. An option to convert the Video to gif will be made available to you in the preview section.
See, how simple it was? No fuss whatsoever. Now, you're ready to send all of your favorite gifs from tumblr, pinterest and other resources to your friends. They'll come in handy, especially, at times when your friend taunts your or ridicules you and you need a smart comeback to get back at them.
Also, if you ave any problems or there are complications while doing any of these steps, please don't hesitate to reach out to us. Please check the FAQ for further assistance as well. I'm pretty sure it will greatly help you, giving you a better understanding of the entire process.
Frequently Asked Questions
What are the best gif repositories to find images, does Whatsapp support any of them?
Yes, on Whatsapp, you can search for gifs on the GIPHY platform. An option to search for the images is provided to you while uploading a video or a photo.
In which platforms has this feature been introduced?
Unfortuantely, you can't send a gif on Whatsapp web. However, iOS devices support this feature.
SO, guys that's it for today. We highly value your feedback. We entertain constructive criticism of all types, here at techrecipes. So, don't hesitate and type away. For additional assistance regarding techrelated topics, please.