Worried that some creepy ex or an uninvited stalker might breach your privacy on Instagram? Privacy and security is something users take really seriously and after the recent accusations on Facebook, concerning the Cambridge analytical case, users have become overly cautious of their online data. Instagram provides its users a number of features to protect their online privacy. In this article we'll show how to make Instagram account private which is one of the surest ways of shielding your pictures and posts from unwanted visitors.

Instagram has amassed quite the users since its advent in 2010. The picture and video sharing application has amassed an impressive 700 million users over the course of 8 years. What's even more commendable is the immense amount of pictures being shared in a day, 70 million to be precise.
Following in the footsteps of other social media giants, Instagram gives the users the liberty to change the privacy of their profile to private. Your Instagram profile is set to public by default, and is prone to cyber-dangers. Anyone can snatch a couple of your pictures from your Instagram account and make fake profiles in hopes to denigrate your name.
So, I would strongly suggest people to protect their sensitive pictures from unnecessary intrusions. You can make Instagram account private in a matter of seconds and guarantee your online safety. A little laziness on your part can land you in dire trouble, trust me.
You can only carry out this tutorial from your phone through the Instagram App and not from your PC. I'm using an Android phone, but the steps are pretty much the same on other devices as well.
Tutorial: How to Make Instagram Account Private
1.Open the Instagram App on your phone.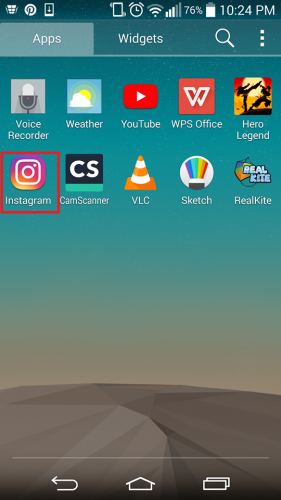 2.Go to your main profile page by clicking the user icon on the bottom corner.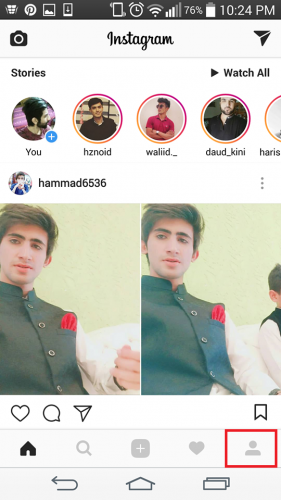 3.Click the three vertical dots on the top right corner of your main profile page.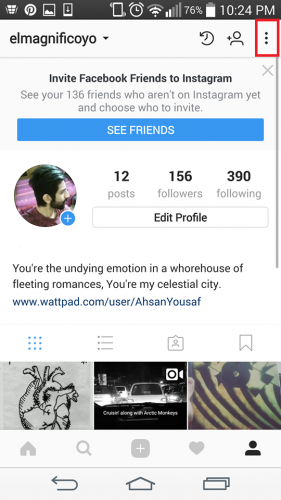 4.Scroll down to Turn on the Private account setting.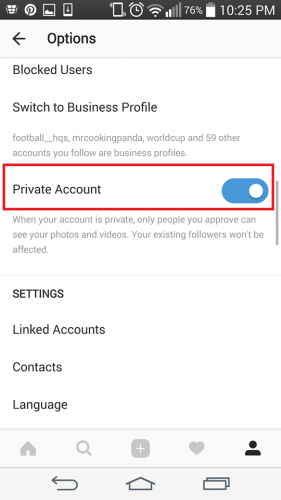 What are other methods of staying private on Instagram?
In severe circumstances, you can even restrict the amount of personal info shared on your profile. Some people go so far as to putting up fake aliases to preserve their online privacy, but I don't think there's any need to take stern measures, granted you're not involved in Espionage. Furthermore, you can even block users who you do not wish to share your posts with. Here's a tutorial on how to do that : How to Block Someone Instagram.
It's also worth mentioning here that if even if your Instagram account is set to private, the same settings won't pass on to other social media accounts. For example, if you've shared one of your Instagram pictures on twitters, and the privacy of your twitter account is set to public, everyone will be able to see that picture irrespective of the fact that your Instagram is closed off to the general public. So be wary of such subtle details.
Controlling your visibility on Instagram is a serious matter and should not be taken lightly. Check out our FAQ to clear out confusions, if any, regarding this tutorial.
Frequently Asked Questions
 What will happen after I set my profile to private?
After doing that, only those people who are your followers will be able to see your information. So, if you have anyone in your profile who is unwanted, you'll have to block him first to maintain your privacy. Only those people who have their follow requests accepted by you will be able to see your posts after you've set your account to private.
Can someone send me a photo or video if they're not following me?
Yes, this is something that Instagram does not let you control. Any Instagram user can send you a message or a picture if he or she pleases. You can proceed to blocking them if you find their behavior irritable or inappropriate.
So, here is a comprehensive article on how to make Instagram account private. You don't have to peek into other articles on the Internet because everything you need is present right here. But if you still have any questions or doubts of any sort, we're here to provide prompt assistance. Don't hesitate to leave your feedback or comments in the comment section below. We'd love to hear back from you. Also, check out my other tutorials by clicking the link of my profile. I'm sure they'll help you in other tech-related problems as well.