For me, the video profile picture feature on Facebook was an exciting new development. Why? I still remember the days when I first saw the awe-inspiring moving portraits in the dorm rooms of the mystical school of Hogwarts. Yeah, you guessed it right! I'm a massive Harry Potter fan. I mean, come on, who wouldn't be enamored of a magical land where newspapers have moving pictures? I would definitely read columns and articles of such a fluid newspaper.And I'm pretty sure  a legion of humans would also flock to buy such newspapers. Facebook has somewhat tried to replicate the concept of mobile images by introducing video profile pictures. It's still nowhere as close and realistic as the ones in the fantastical land of harry Potter, but it's still a start.
Many people are still unaware of this feature and have no clue whatsoever as to how to activate it. They're still using their dull static pictures and missing out on something different and splendid. The video profile picture makes your Facebook profile more personalized than it already is. It attracts audience to your profile.  Moreover, People who have a Video profile picture receive more friend requests than others. Businesses can also reap the benefits of this new and exciting feature and boost their sales.
As a Video profile picture hasn't yet been added by majority of Facebook users, it will help you stand out in the crowd. It will imbue your profile with a certain panache that other profile's lack. Your profile will no longer retain that bleak look. It will certainly become more inviting and intriguing for anyone who stumbles across  it.
If you still don't know the process of setting up a Video profile picture, don't worry. In this article, I'll tell you precisely what you have to do to set it up. So, are you ready to bewilder friends and family with your visually stunning Video profile picture?
How to Add a Video Profile Picture on Facebook
For this tutorial, you'll need the Facebook App pre-installed on your Android device. And that's pretty much it. The process is fairly simple and will only take a couple of minutes out of your precious time.
1.Open the Facebook App on your Android device.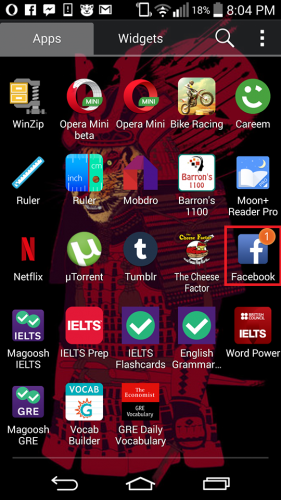 2.Go to your Profile's Timeline and tap on your profile picture.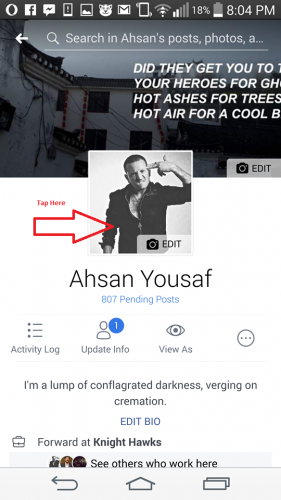 3.A drop down menu will open. Select the option that says Select Profile Video and choose the video you want to set as your profile video from your phone. If you want to record a New profile video on the spot click the Take a New Profile Video option.
4.Select Next and adjust the thumbnail of your selected Profile Video. Also, you can make this picture temporary by selecting the Make temporary option. You can set it temporarily for a week or a month, depending upon your preference. After doing all that, finally select Use.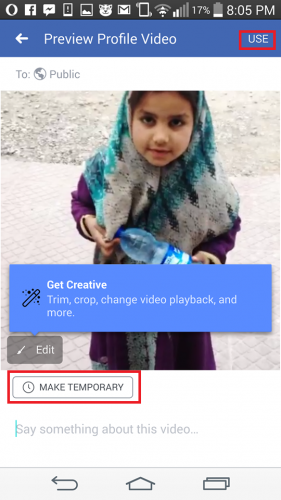 That's how simple it is to add Video profile picture on Facebook. The process remains the same if you're using an Iphone instead of an Android Smartphone.
Note : You can only Add a Video Profile Picture on Facebook that's no longer than 7 seconds. Any video longer than that time will be incompatible to be used as Video profile picture. This feature is currently only available for Android and Iphone users. Desktop users will have to wait till it is made available to them. Moreover, this feature has certain Geographical restrictions. 
Frequently Asked Questions
Is the Video profile picture available across all platforms?
This feature was initially made available to Iphone users. But, then access was granted to Android users not so long after. Currently, PC and MAC users are the only ones devoid of this unique feature, but that will soon change.
When will my Profile picture appear as a moving video?
Well, it will not be seen as a moving video in other people's newsfeeds. Other than that, whenever someone visits your profile, they will always see a moving video profile picture.
Is the Video profile picture available for people around the globe?
At first, this feature was only accessible to users in the UK and California, but now it has been made available to users from a myriad of countries.
So, I'll wrap it up here for today. If you have any further queries or questions about adding a Video profile picture, please don't hesitate to leave them in the comments sections below. I'll surely get back to you at the earliest. We highly value your feedback here at techrecipes.
Please also check out related tutorials to get further assistance.