Although Facebook has been around for a while now, users have not been allowed to upload music files (such as mp3s) from their computer to Facebook. This tutorial demonstrates how to upload music files from your computer to a file hosting service and then share these music files with friends on Facebook.
Facebook does not allow the user to upload a music file to Facebook like you can pictures and videos. Sharing audio files requires the extra step of placing the file within a file hosting service and then sharing the link that the file hosting service creates.
Basically, you upload the file, copy the music link, and then share that link on Facebook. Here is how it is done.
1. Upload your mp3 file to a file hosting service. Please note that NOT ALL of file hosting services work with Facebook. (we use CloudApp for this guide)
2. Copy the direct link to that file (example: abc.com/example.mp3). If you are not sure which one is the link, just hit the download button to get the link. Here are several ways to copy the link:
–Get link with download manager: copy the URL.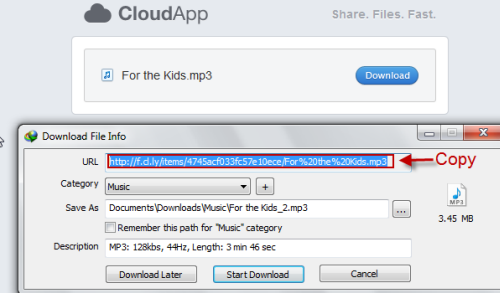 –Get link with Firefox: right click on the download file and choose Copy Download Link.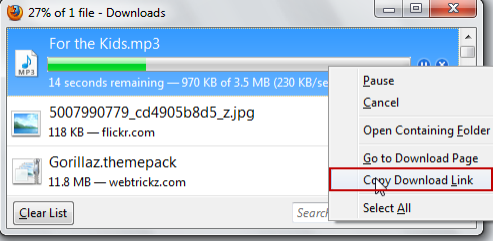 Obviously, how you obtain the link will depend on which file hosting service and which browser you use.
3. Share by loggging into your Facebook account and click on Link button.

4. Paste your copied URL in the URL field in hit Attach.

5. Fill in the song's information (its name, artist, album) and hit Share.

6. Your music file is ready to be played on Facebook.
Notes:
-If the file hosting service doesn't work with Facebook, the player will stick at 0:00. Delete and try with a different file sharing service.

-Please name your file in unicode, otherwise, it will not work.
-Don't share music with which you do not have permission. The song appearing in this post is free for download.