Even though Facebook often displays ads that pertain to your interests, you may still occasionally see ad that are offensive or completely irrelevant to you on your timeline. Most of the time when you see these ads, you can skip them or hide them using the context menu. However, similar ads will keep popping up until you tell Facebook that you are not interested in receiving ads on those topics. Here's how to do it.
Warning: This tutorial will help you hide ads on particular topics. For example, if you hide ads about cars, you will not receive any ads regarding cars anymore. If you still wish to receive these ads but want to hide a specific one, simply tap the arrow next to the ad, and choose Hide Ad.
How to hide Facebook ads on specific topics:
1. Log in to your Facebook account.
2. Click the small white arrow at the top right of the screen, and select Settings in the list.

3. On the left-side panel, select the Ads option.

4. Click on the Ads based on my preferences option to expand it, and then click the Visit Ad Preferences button.

5. In the Ad Preferences screen, you will see several groups of preferences such as Education, Foods and Drinks, etc.. The names of the preference depend on the interest that you provide to Facebook.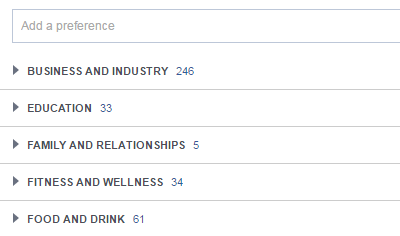 6. Click on a topic to see sub-topics. For example, if you click on Food and Drink, you will see several options like Beer, Coffee, Fast food, etc.. Move your mouse over the topic that you want to remove, and then click X to delete it.
7. If you accidentally delete a sub-topic, click Undo to restore it.
8. Click See More to expand the list even further.
9. When you are done, go back to your Facebook timeline to save the changes.