Google News is a popular site for aggregating news stories from all over the world. Google, the master of algorithms, pulls together stories based on freshness, trends, diversity, and relevance. Each story has links to several sources, so you can find a balance of opinions and ideologies. The main strength of Google News is that it focuses on providing content that is tailored to you specifically. I have tailored mine to catch announcements from big tech companies, some of my favorite authors, and my Alma Mater. I have also added topics for parenting and education. Experiment with different topics until you achieve the perfect Google News feed. Read on to find out how to personalize yours.
1.Go to news.google.com, and log in with your Google Account if you have not already done so for your browser.
2.Click the Personalize button on the top right of the screen to reveal all your current news topics. If the personalize button is missing, it means that you are not logged in to Google correctly. Drag and drop the items into the order you want the groups to appear in your news feed. You can delete a topic by clicking the trash can that appears when you hover your mouse over a topic.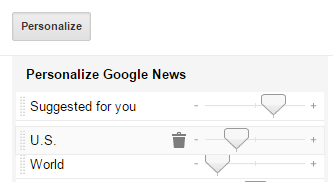 3.Use the sliders to adjust the frequency of news articles from each topic.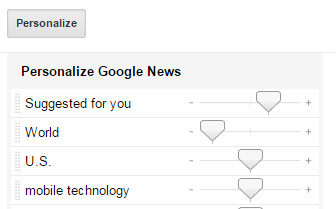 4.Scroll down to the bottom to add any topics that you want to follow. You have to choose from their list, so you can start typing and choose your topic when you see it.
5.If you find yourself annoyed by strong biases in certain news sources that frequently show up in your feed, you can adjust the source so that you only see it rarely. Type the name of the source into the Adjust Sources box at the bottom of the personalize panel, click the "+" next to the text box, and then slide the slider all the way to the left. You can also give preference to your favorite sources in this same box.
Now, your Google News will bring you headlines on topics you care about. Are there other personalization features you would like to see added? Let us hear about it in the comments section below.