Google creates a contact of every person you email. This is helpful as it is used to auto-complete your address field. However, there a multitude of reasons why you may not want these email addresses clogging up your contacts forever. Here is how to stop gmail from automatically saving contacts.
Each time you send an email, Gmail will auto-save the email address of the person you sent the message to the Other Contacts. This is so that they will automatically pop up when using auto-complete to populate the address fields. If this is not to your liking, you can disable this functionality.
1. Go to Gmail and login to your account.
2. Go to the upper-right corner and click the Options icon.
3. Select Mail settings.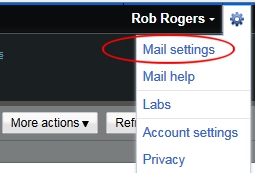 4. Go to the General tab.
5. Scroll down to the Create contacts for auto-complete section.
6. Select the I'll add contacts myself radio button.

7. Click the Save Changes button.
If you click on Other Contacts from your main gmail screen, you will see all of these automatically created contacts. Selectively deleting these contacts is a great way to trim some of the fat out of your address book.