Google Chrome has been one of the best and fastest browsers in this era. Google promised to release more modern version for their browser for every six weeks with the addition of new elements. Google Chrome team provides modern-day applied sciences, performance tweaks to their browser for every latest release. However, sometimes, for one reason or another, we might want to downgrade our Google chrome and for that, I wrote this article on how to downgrade Google Chrome browser.
Google Chrome is arguably the most popular browser used to surf the web in the recent time. However, most of us are unaware of the fact that there are actually four versions of the browser.
Sure, you read that correctly. Most of us work on the stable version, which is an end product of more than one tests run on other types of the browser – Canary, Beta, and Dev.
Whenever an update needs to be validated, it first rolls out these browser versions and later on when all the bugs are fixed and the update is stable, it's rolled out for the Chrome browser used by hundreds of thousands.
Right now,  let's first discuss how the 4 models of Google Chrome browser vary from one another.
CHROME VERSIONS.
STABLE
The steady version of Google Chrome browser is what you get when you search 'download google chrome', 'google chrome' or an identical keyword on Google search.
This variation is utilized by a majority of Chrome customers and is a result of vast check out in different models of the browser, making it the most secure and most stable variant of Chrome.
BETA
Chrome's Beta variant is one step before the updates are released for the steady build, which caters to millions of Chrome users.
Chrome beta is mostly stable, with just a few minor bugs hampering its efficiency every now and then, which is then constant before the replace is rolled out to the stable build.
Beta is the ultimate stage of testing the update, gets the final tweaks in consumer interface and get verified for bugs earlier than it's released to the wider viewers on the stable version of Chrome.
Chrome Beta browser is up-to-date per week by using Google and receives a foremost update approximately every six weeks.
DEV
Chrome Dev is a step below Beta and is fairly more unstable. This variant is mostly utilized by the developers to scan out significant alterations to the browser which can or would possibly not make it to the stable or even Beta version.
The Dev variant of Chrome is extra prone to crashes, blunders, extension compatibility disorders and more because the update on this variation continues to be in its early phases with lots of trojan horse fixes bobbing up and pending repair.
CANARY
Chrome Canary is probably the most unstable build of the entire four models as it's updated usually through Google's servers automatically with the trendy Chrome development code.
This version is essentially utilized by builders to test compatibility problems. Most of the updates you see here won't ever make it to the stable constructed.
A replace is in its infancy when being verified on Canary.
Canary can be run independently alongside your steady variation of Chrome on the equal laptop and will not interfere with the functioning of the latter
Okay, I know I went off-road for a while, forgive me. But that was fun, wasn't it?
Before downgrading to an older version of Chrome, backup your Chrome Profile to a separate folder and export bookmarks too. You could backup chrome extensions too, i.e plugins.
How To Downgrade Google Chrome Browser
1. On your PC close Google Chrome if opened.
2. Uninstall your current version of Google Chrome.
3. Go to this URL https://filehippo.com/download_google_chrome/.
4. You should see different versions of Google Chrome, download an older version of your choice.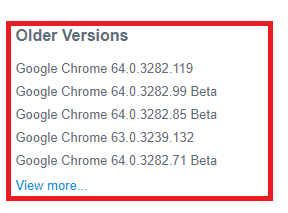 5. Restart your PC.
6. Install the previously downloaded Google Chrome.
7. Turn off Google Chrome automatic updates.
So, there you have it. That's basically one of the most simple methods of downgrading Google Chrome browser on Windows computers. Thanks for reading.