Sent an email using Gmail erroneously? Save your self the embarrassment by canceling the sent message. What most Gmail users do not know is that there is a way to recall a sent email on Gmail. This article will discuss how to undo a sent Gmail messages.
Gmail has proven itself to be one of the best email apps. This is the reason why more and more people are switching over to Gmail. Aside from the simplicity, functionality, and features, Gmail offers ease of access by allowing users to read their emails across different devices. One of the useful but not-so-known features of Gmail is its Undo Send feature. Undo Send feature recalls emails sent up to 30 seconds in case the sender sent an incomplete email by mistake or unintended recipients were included in the mail. If Undo Send is activated within the specified cancellation time, Gmail will cancel out sending the email. So save your face, and possibly your job and dignity, by learning how to recall a sent email on Gmail.
How to Recall Sent Messages on Gmail
Activate Undo Send
You need to turn on the Undo Send feature on your Gmail to have the feature to retract Gmail messages. Follow the steps below to enable Undo Send on your Gmail account:
1.Log into your Gmail account.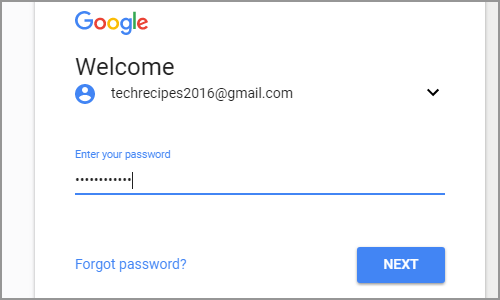 2.Once you are logged into your Gmail account, click on the Settings (gear) icon on the upper-right part of your screen.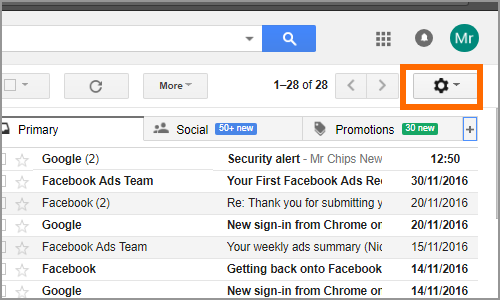 3.A list of options appear. Choose Settings.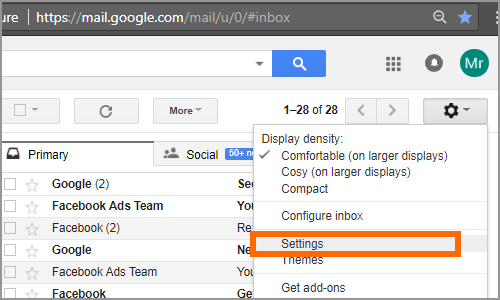 4.From Settings, click on the General Tab.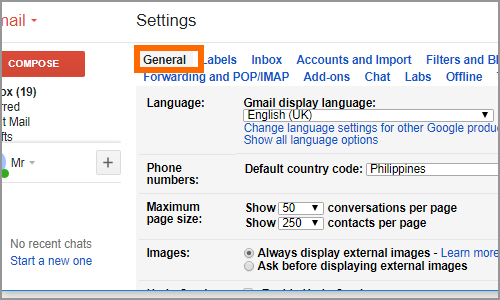 5.In the General tab, go to the Undo Send section and click on the tick box for Enable Undo Send.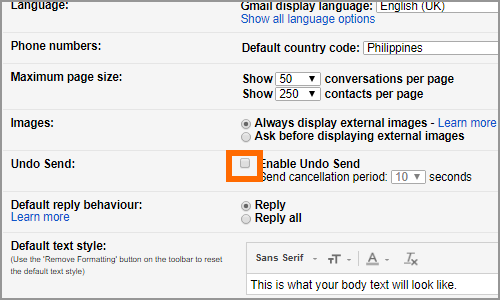 6.Select a cancellation period. You can change between 5, 10, 20, and 30 seconds. The cancellation period is your time allowance to cancel sent Gmail messages. After the cancellation period, Gmail messages can no longer be unsent.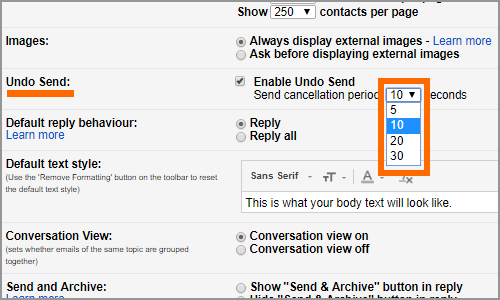 7.Scroll down to the bottom part of the screen and click on the Save Changes button.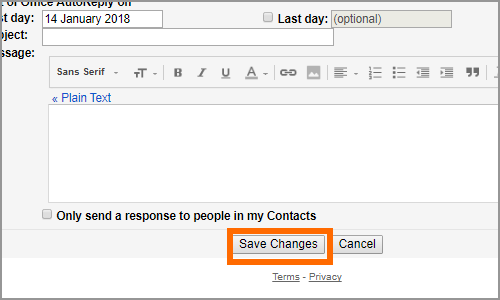 8.The Undo Send feature is enabled. You are taken back to your Gmail's main user interface.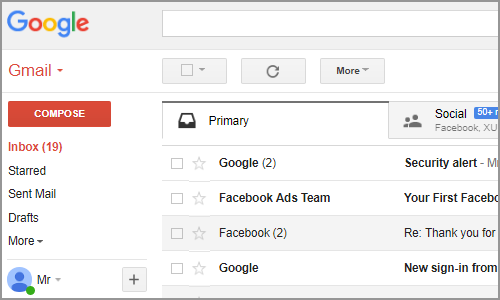 Cancel a Sent Gmail Message
Now that the Undo Send feature is activated, you can now recall a sent email on Gmail. Here's how you can retract sent Gmail messages:
1.Compose an email for your intended recipients.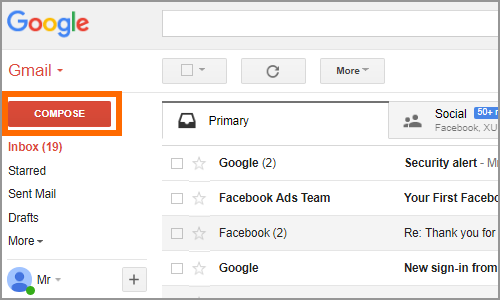 2.Send the email.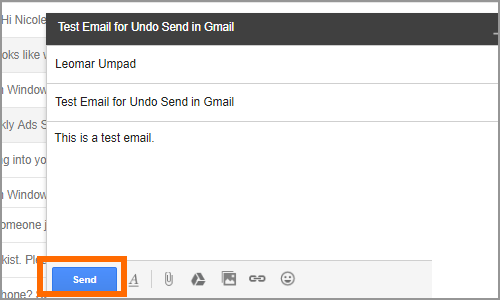 3.On the upper-middle part of the screen, Gmail notifies you that an email is sent. Click on the Undo button to cancel the sending.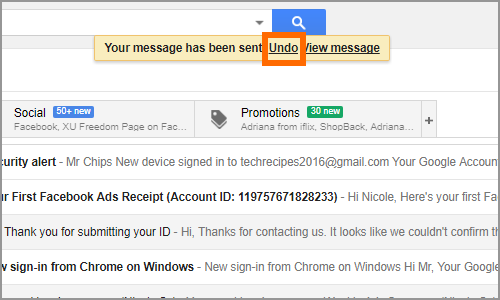 4.Gmail initiates the cancellation and loads for a few seconds.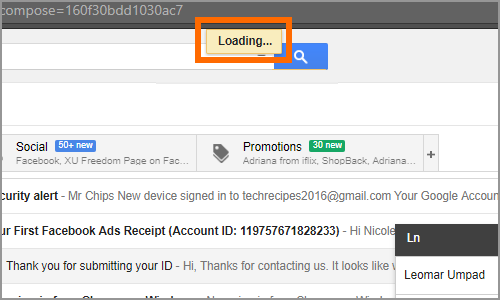 5.You are notified that Sending has been undone. Your recipients won't receive the Gmail message. The sent message is transformed back as a draft for you to edit and resend.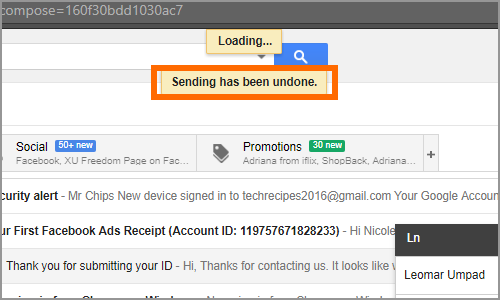 Frequently Asked Questions
Q: I have sent my Gmail message an hour ago. I am sure that my recipient has not read it. Can I still recall that mail?
A: You can only undo sent messages within the chosen cancellation period and by clicking on the Undo button. The time window is only for a short while – maximum of 30 seconds. Messages sent after 30 seconds can no longer be recalled.
Q: Why do my Gmail messages not canceled? I clicked on the Undone button within the cancellation period, but Google failed to cancel the email.
A: If your Gmail message pushed through, then it means that the Undo Send feature did not work. There can be different reasons for this issue. Aside from a possible error on Google's side, there is a chance that your internet connection fluctuated or got disconnected before you clicked the Undone button.
Q: After sending a message, Gmail immediately notifies me that the message has been sent. I cannot see the Undone button. How to fix this?
A: By default, Undo Send is not turned off on Gmail. You may not have enabled the feature yet. Follow the first section to turn on Undo Send for your Gmail account.
Q: I am sure that I enabled the Undo Send feature. I even chose a cancellation period, but I still can't see the Undo button after sending an email. Is there a fix to this?
A: You need to save changes after turning on the Undo Send feature. After enabling Undo Send, scroll down to the bottom part of your screen and click on the Save Changes button.
You just learned how to recall a sent email on Gmail using the Undo Send feature. If you have questions with any of the information given above, let us know in the comments section.
Be a better and more productive Gmail user by learning these related tips and tricks for Gmail:
How to Change the Time Zone in Your Gmail Account
How to Set Up Out of Office Reply in Gmail?
"How to Use Gmail as a To-Do List Manager Using Google Tasks
"
How to Create a Gmail Folder
How to Change Your Gmail Name
"How To Enable Gmail Desktop Notification
"
Give Access to Gmail Without Sharing the Password