Facebook is a social networking media that connects family and friends from any destination online, it allows you to share media to individuals or groups and even chat with friends and family. History has it that Facebook records about 2.13 billion active users, all these numerously increasing statistics can be attributed to the positive results ascertained by Facebook users. Facebook offers lots of interesting features; one of which is the sidebar that appears on the side of your screen. Some persons enjoy the appearance and usage of the sidebar to enhance a toggle between Facebook feeds and chats, also, some persons do not find the display of this Facebook feature cool, not because it's not useful, but because its appearance may be disturbing to them. For those that find it disturbing, or that want to hide it for any reason, I am going to show you how to hide the sidebar on Facebook.
Just for clarification purpose, I'll briefly explain what sidebar on Facebook is.
In my own words, I would say the sidebar is the vertically partitioned small part that appears at the right hand of your Facebook home page. Pages and contacts are the basic content of the sidebar, at the bottom of the sidebar you have the search space and the settings gear icon. I want you to understand that when you hide the sidebar it doesn't necessarily mean that you have disabled or displaced the sidebar, the main function of the hidden sidebar on Facebook is to collapse it down its toolbar at the bottom of your screen. Unlike the "collapse all chat tabs" and "close all chat tabs" option that closes and removes all chat tabs, the hidden sidebar on Facebook takes off everything on the sidebar of your home screen. You may prefer your Facebook appearance without the sidebar.
Would you literally love to explore this feature?
Without further ado, if you want to hide the sidebar on Facebook, read and follow the steps carefully.
How to hide the sidebar on Facebook
1. Log in to your Facebook (laptop or personal computer).
2. Click the gear icon at the right part of your screen where you have chat contacts.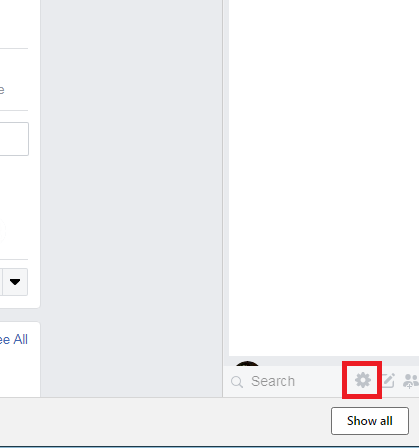 3. Click on hide Sidebar.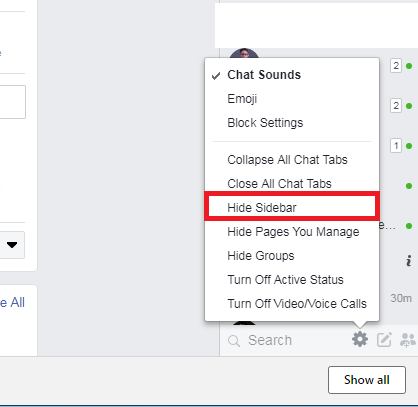 Once you have clicked this option the sidebar automatically disappears and you have a blank space on that part of your screen. Maybe if you were getting distracted by the sidebar whenever you are doing something on Facebook, then you rest assured that the sidebar is taken care of.
Frequently asked Question and Answers
Q: How do I bring back the sidebar after hiding it?
A: It's pretty simple if you follow the same steps you took in hiding your sidebar, just click on the gear icon, your sidebar will be restored immediately.
Q: Can I disable the sidebar feature on Facebook?
A: Facebook has not given an option to disable the sidebar feature, but why try to disable it when you can just hide it.
Q: Do I have to hide it anytime I log in to my Facebook?
A: No, once you have activated the hidden sidebar, it stays hidden until you unhide it.