Instagram has a large number of users and as such, there is a possibility that you may likely receive irrelevant direct messages from followers and fans, Instagram also put in consideration all possible cons and discomfort from fans and followers such that they have provided an option to mute direct messages on Instagram.
Instagram is a social networking app made for sharing photos and videos from any smart device. It is Similar to Facebook and Twitter, everyone that has an Instagram account has a profile and a news feed rolling down. When you post a photo or video on Instagram, it will be displayed on your profile and being that you may be a celebrity or a public figure, you are bound to have a lot of followers and fans. These can cause you the inconvenience of having excessive direct messages, spam messages, tags and so on. Perhaps you may have thought of a way to mute direct messages on Instagram. I am glad to tell you that your search on how to mute direct messages on Instagram is over, shortly I will show you the steps on how to achieve this.
What are direct messages on Instagram?
Direct messages are messages that are sent directly to someone or a group of persons if you are added to the group you would also receive the message. This messages consist of media (photo or video).
Before now, when you want to share or send a funny post to someone on Instagram, you would have to mention the person's name in the comment area by typing @ then the person's name but the direct message feature has altered all the stress of wanting to comments in posts even when you did not want to. You would rarely find the @ username these days as a means of sharing a post with a friend, all thanks to Instagram direct message feature. as the case may be, not everyone fancies this feature, some persons may find it disturbing and inconveniencing. If you do find it disturbing and you would love to mute direct messages on Instagram, then this article is for you.
How to mute direct messages on Instagram
1. Log in your Instagram account.
2. Tap the direct message icon at the top right of your screen.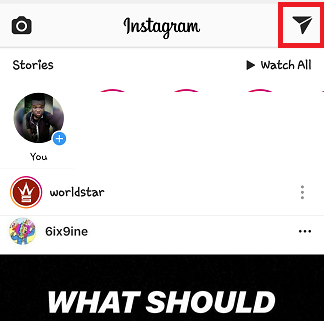 3. Long press the conversation you want to mute.
4. Tap on mute messages.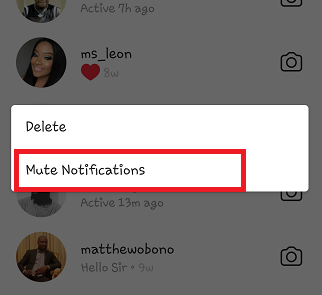 There is literally no way to mute a conversation for a particular time period, some other social media apps do allow this, but at least now there's a way to mute those annoying notifications, allowing them to come in but you will not be notified. Also, if you want to start getting notifications again, then just go back to the interface and unmute notifications.
Frequently Asked Questions and Answers
Q: Can I mute all direct messages on Instagram?
A: Yes, but you would have to select the messages and mute one after the other
Q: Is there a duration before I am able to unmute?
A: No, you can mute and unmute direct messages on Instagram at will.