Learning how to find someone's birthday on facebook can save your life. I'm not exaggerating. Not in the least. We all know the aftermath of missing a wife or a friend or, in the worst-case scenario, a girlfriend's birthday. You might as well say that you have a case of the dead memory to get yourself out of that one. It still won't guarantee you safe passage, though.
But, as always,… there's no need to worry. Tech-Recipes has you covered.
It's quite simple to get a list of incoming birthdays through the highly popular social media behemoth. You don't have to keep a calendar or create constant reminders through a reminders app.
Here's how…
A Little About the Birthday Section on Facebook
The Birthday section finds itself under the Facebook Events Section. It is divided into several different parts to help you better navigate it.
Today's birthday (friends who have their birthday's on the current day are listed here, along with their ages)

Recent Birthdays (friends who have recently celebrated their birthdays are listed in this subcategory).

Upcoming Birthdays (Here you can find the birthdays of all the friends that still haven't yet come).
Note: If a Facebook friend is celebrating his birthday today, you can also send him a birthday wish directly through today's birthday category. 
Finding Someone's Birthday on Facebook
Note: This tutorial is applicable across all devices: PC, Android, and iOS.
1. Open Facebook's website.
2. On your main timeline, left side, tap the events option.
3. Tap Birthdays on your left, underneath Events.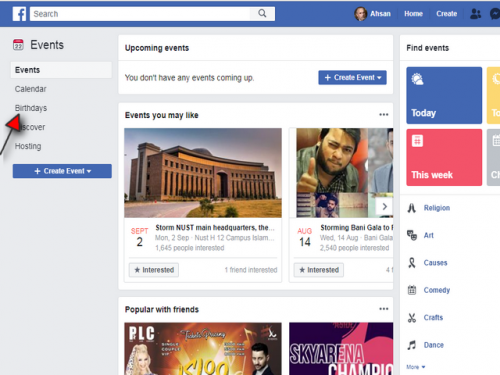 4. Find your friend's Birthday.
Read related Tech-Recipe: Removing Birthday and Facebook Events
How to Find Someone's Birthday's through the Fb Calendar
Under the Events menu, where you found the birthday's submenu, you can also select the calendars option. It will show you the events and birthdays in the incoming days. You can also block Fb event invites here.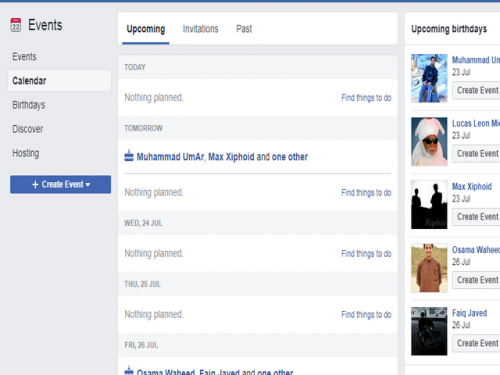 However, keep in mind that this calendar will only show you birthdays that are in the next week or so. No farther than that. So, it isn't all that reliable.
Visiting a Fb Friend's profile to Check his Birthday
You can also check the about section of a friend, to see if his birthday is listed. Here, you will also find other basic info, such as his work history, education, and other shenanigans that he's probably lied about.
Here's how you can access the about us section.
1. Go to the Friend's FB profile you want to know the birthday of.
2. Tap About.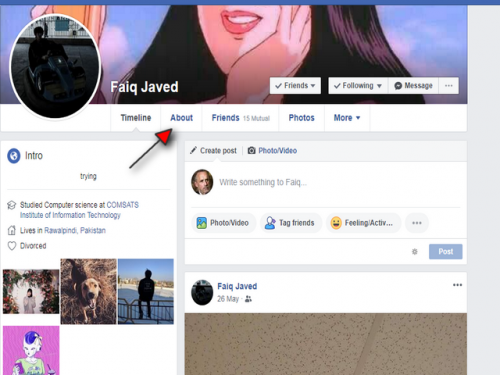 Note: If your friend's strict privacy settings don't allow you to view his birthday, then it won't be visible. In this case, you will just have to muster the courage and ask him. There's practically no other way.
How to Squeeze out a Friend's Birthday if it isn't on Facebook
There are some cunnings of the tongue you can use to make a friend spell out his birthday without sounding suspicious.
This is pretty basic. Just tell him that you wanna play a game in which he has to tell you the first thing that comes to his mind when you say a certain word. Just casually slip birthday in one of those words and BOOM! There's your discovery.
The Fill out a Survey Card
There are a lot of surveys that you have to fill out for colleges and stuff. Just give him one of these questionnaire surveys and tell him that you need it filled asap because your professor is going to mark you on it. Make sure it contains a birthday section, and again, BOOM! He'll play right along.
Ask a Sibling or a Close friend
This is the safest of the lot. Just ask someone close to him – it could be a sibling, an arch-nemesis who keeps a close eye on his every activity, or practically anyone who's close.