Hello, I hope our articles have been very helpful?
Here at tech-recipes, we delight in providing solutions and helping you with useful information on Android devices and Android application features.
Today, I will show you how to answer did you know questions on Facebook. What are did you know questions on Facebook? I know that some of us have this question on our minds, and trust me it's a genuine question to ask. I will give you an abridged definition of this Facebook feature.
Facebook added this as a new feature to their list of features, this feature is known as the "Did you know" and this feature asks you to answer some questions. Facebook has started adding personality questions prompts and these questions appear on a user's profile. These questions are somewhat sweetly composed by other users and uploaded to Facebook's database.
Some persons have deemed this feature interesting and fun to answer, while some other persons see it as immature and inconsequential, well, whichever class you fall in, I just want you to know that it is not compulsory to answer this questions or to answer did you know questions on Facebook. I would say some persons use this medium to find out people's view on something or peoples diverse approaches to questions. This could be helpful you know? Why not get to find out by trying to answer did you know questions on Facebook.
Without further ado, I'll take you straight to the steps on how to answer did you know questions on Facebook.
How to Answer Did you know questions on Facebook
1. Lunch your Facebook App.
2. Click on your profile that has your image and name.
3. Scroll down and click on "did you know", located at the lower left of your profile page.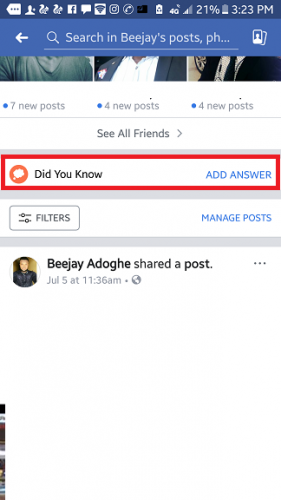 4. Click on "Your questions" followed by "Create question".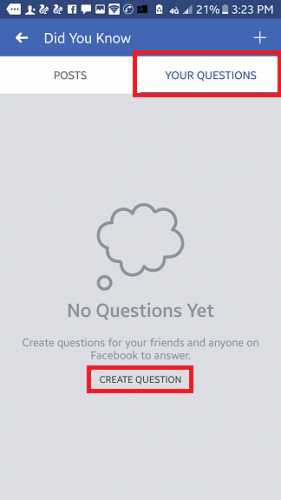 5. If the question suits you, Tap on Add your answer. if not, you can also Tap on the next button to see more questions.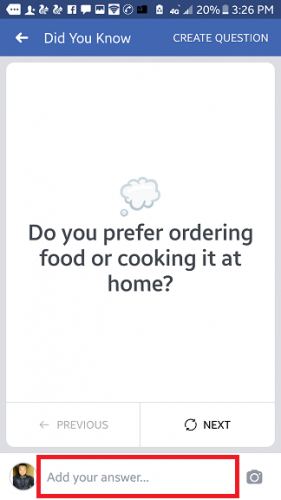 6. Add your answer and finally tap on share.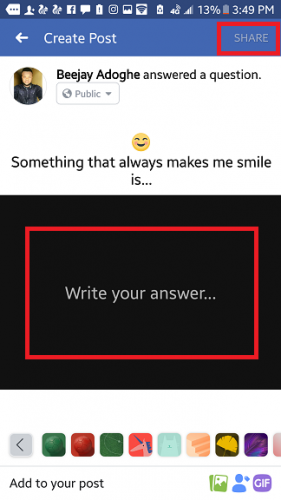 Some of these questions are:
Between chocolate and vanilla, I prefer..

Three things I couldn't live without.

Best thing to do when the weather is bad.

Do you prefer a natural look?

I only block people on social media when they.

Right now I would like to hug…

My favorite sound is.

If I could bring anyone back to life I would bring back.
If you have followed the steps above very carefully then you must have achieved your aim on how to answer did you know questions on Facebook.
Sometimes we get flustered and we require some kind of advice and perhaps we would also like to get other peoples point of view to this question on our mind. I personally find this feature interesting and I delight in creating mind-blowing questions that can cause traffic with its vast answers.
Frequently asked questions and answers
Q: Is it possible to answer more than one "did you know question" on Facebook?
A: Yes, you can answer more than one did you know question on Facebook, you can answer as many questions as you want. You can even create your own custom question.