Hello, today we are going to look at a very interesting topic which is how to add legacy contact on Facebook. If you haven't added a legacy contact on your Facebook account, it might be time to do so. 
As a social media personality or manager of any kind of social media platform, it's very advisable to add legacy contact on Facebook. Let me first help you understand what a legacy contact is? A legacy contact can be described as a contact chosen to look after or take care of an account if something happens to the account owner, or the account has been memorialized.
Anytime your account has been memorialized, the legacy contact takes charge of your account to probably keep the account going if need be.
Some job specifications of a legacy contact include:
Respond to request from your friends and page like requests

Write pinned post for your profile (perhaps giving vital information on your demise or memorial service details)

Update profile picture and cover photo too

Delete your account
A legacy account also restricts the handler from doing or performing certain actions like
Logging into your account

Change or modify old posts

Access your messages

Can't admit another legacy contact
Okay, now we have a proper understanding of what a Legacy contact is.
Let's proceed with the steps to adding legacy contact to Facebook".
How To Add Legacy Contact On Facebook
1. Log in to Facebook on your PC.
2. Click on the drop-down menu and select settings.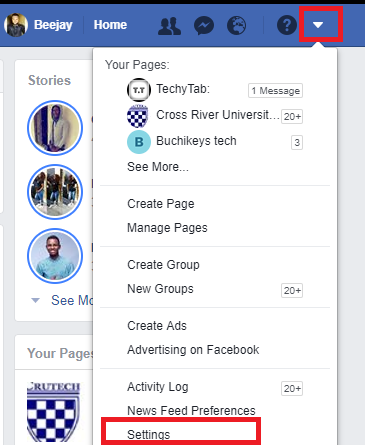 3. Click on manage account.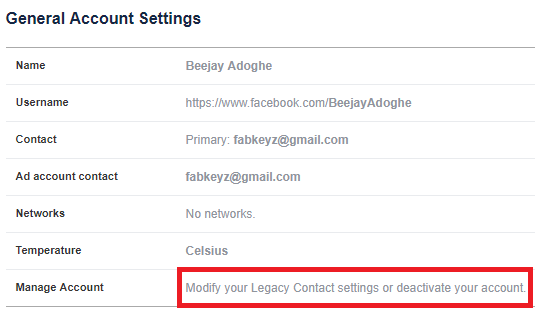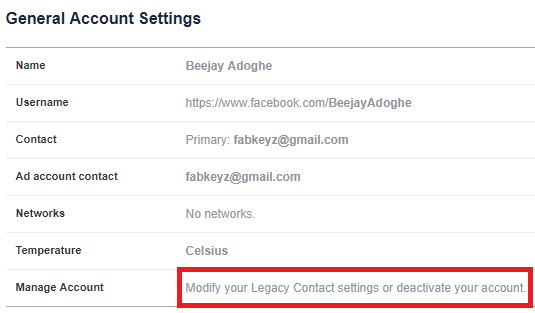 4. Choose the contact you want to add and click on add.


5. Click send to notify the person of your action.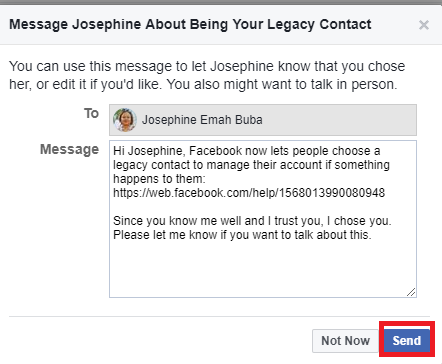 These simple steps are very useful to add legacy contact on Facebook. Some persons may not see the need of adding a legacy contact to Facebook but Some persons would still want to have their account very functional if something happened to them, maybe because of the account type and what it entails or any other personal reason. Well, whatever the case be, it is entirely a personal decision whether to add legacy contact on Facebook or not. The importance of a legacy contact cannot be overemphasized but you may want to make sure the contact involved is a very trustworthy person and a close person so as to avoid complications.
Please note the following:
You must be 18 years and above before you can select a legacy 

Contact.
If your timeline and tagging settings don't allow anyone other than you to post on your timeline, your legacy contact won't be able to add a pinned post to your profile once it's memorialized.
Frequently Asked Questions and Answers
Q: Is it possible to choose someone that is not my Facebook friend as my legacy contact?
A: No, it's not possible to choose someone who isn't your Facebook friend as it's clearly stated in the text box "choose a friend".
Q: Can I change my Legacy contact at any point in time?
A: Yes, you can change your legacy contact at any time you please.