Setup the Android app Torrent-fu to connect to your desktop pc's uTorrent / Transmission program and manage your torrent downloads! One can add custom torrent search providers within Torrent-fu as well. Using this technique, you can search for torrents on your Android phone and even queue them in your desktop pc's uTorrent client for download.  Keep reading for the directions…
You will require a torrent client. Either use uTorrent (free, download page) for windows or Transmission (free, download page) for Mac OS X.
You will require the Android BitTorrent remote manager Torrent-fu (free, main page) as well.
** Installation and Configuration **
1. Download and install uTorrent for your PC.  For Mac users, an alternative would be to download Transmission (also free and Torrent-fu compatible).
2. Open up uTorrent.  Then go to Options > Preferences.
3. In Preferences, go to the Web UI section.   Put a check in the Web UI and then setup a proper username and password.  You can also choose a custom port to run the Web UI on, default is 8080.  Once your done, hit Apply and OK.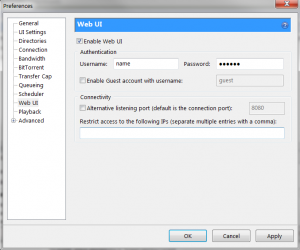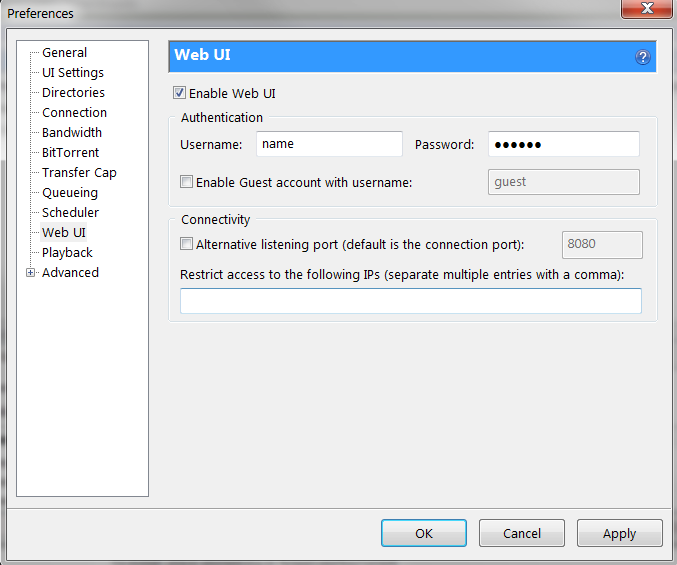 Transmission and Mac users:
2a. Go to Preferences and then the Remote tab.
3a. Again, setup your username and password and also the port to listen on (using 8080 port in example)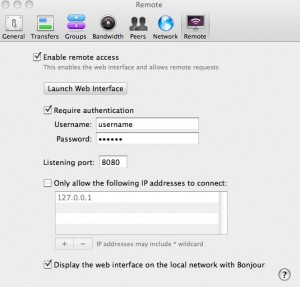 uTorrent and/or Transmission should now be setup.
*If you have a firewall application, be sure to setup a rule to allow traffic from uTorrent and/or be sure that the 8080 port or your custom port is open too.
Setup a free DNS hostname.
4. This step is optional but can make your remote life a ton easier.  I recommend any person who needs to reconnect back to their PC or network remotely, to use a DNS name.  This allows you to to use myname.dyndns.info as your IP instead of your physical ip address.  Easier to remember too.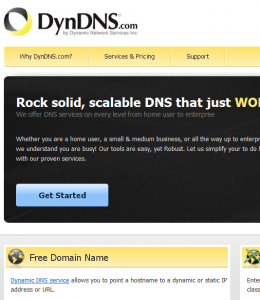 5. Go to DynDns.com and create an account and sign up for the free DNS hostname.  Once you create it, you can setup it up to reflect your internet connection's IP and now anytime you type myname.dyndns.info into a program it will redirect to your internet IP address.
Configuring Torrent-fu in Android
6.  On your Android phone, download Torrent-fu from the Android Market and install it.
7.  Once installed, open up Torrent-fu and go to Profiles and Add a profile for your home pc's uTorrent/Transmission.
I recommend leaving your Wifi off on your phone so its a true over the internet test once your configured, if you have a mobile data plan for the device your using. beware, bittorrent uses LOT of bandwidth!!!!
8. The IP will be the dns hostname we setup previously (ie yourpc.dyndns.info) and the port we setup in uTorrent and on our firewall.  Also the user name and password will be the same was we setup previously in uTorrent / Transmission's preferences.  (if you did not setup a dyndns host, this is just your home pc's ip address, on your home pc go to whatismyip.com to get your ip)
Once you have a profile setup, test to see if you can see your current torrents from the Manage option in Torrent-fu.  It should say connecting and then bring you to your home pc's bittorrent client queue.
** Setting up Custom Bittorrent Search Providers and Sending Torrents to your Computer with your Android device **
9. On your Android device, open Torrent-fu.  Scroll  to the Search Providers section of the main menu in Torrent-fu.  Click on it and then click on the Add Providers.  Below are the settings for 4 top bittorrrent search engines and settings you need to add to be able to search in Torrent-fu from these trackers. Be sure to use url as the link tag.   I have included setup for Sumo Torrent, Torrentz, fenopy and torrentbit.
Sumo Torrent:
Provider Name: Sumo Torrent
RSS Search Url: http://www.sumotorrent.com/searchRSS.php?search=[searchterm]
Torrent Link Tag (Optional): url
Torrentbit
Provider Name: Torrentbit
RSS Search Url: http://www.torrentbit.net/search/?torrent=[searchterm]&xml
Torrent Link Tag (Optional): url
Torrentz
Provider Name: Torrentz
RSS Search Url: http://torrentz.eu/feed?q=[searchterm]
Torrent Link Tag (Optional): url
Fenopy
Provider Name: Fenopy
RSS Search Url: http://fenopy.com/rss.xml?q=[searchterm]
Torrent Link Tag (Optional): url
10. In Torrent-fu, you can now go to the Search screen and now do a search for a torrent (ie Android SDK). Once you get a list of torrents, just tap on the item and it will then show you your PC name to send it to. Tap on your PC name and Torrent-fu it will then start downloading the file on your home pc's uTorrent client or Transmission client.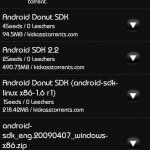 11. You can now manage your torrents remotely in the Manage section in Torrent-Fu.   By tapping on the download, you can resume, pause, remove the torrent, etc.
uTorrent on home pc (w/torrent fully downloaded)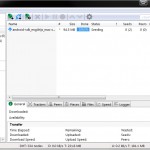 NOTES/TIPS
-You can click on Torrent links in your Android browser and in turn queue them up to your home computer's uTorrent or Transmission queue!
-Beware of your bandwidth usage for your home pc!! Bittorrent will take up a lot of your allocated bandwidth.  Comcast gives you 250GB of bandwidth a month. You can setup uTorrent and Transmission to follow rules to not go over your bandwidth or to stop seeding when getting close
-If your doing 'gray area' stuff on BitTorrent, be smart and try to protect yourself.  Use PeerBlock to try to block 'the man' from getting/seeing your torrents. Its not 100% but definitely is better than nothing.  This won't protect against viruses in your torrents but just who can see your activity.