Did you know that you could access Instagram from your PC? it's simple really, all it takes is a few easy steps and you will be on your way to using Instagram on PC.
Instagram is an amazing platform with an estimated number of 800 million users worldwide. And I must say, that's a lot of people.
Instagram basically lets you upload pictures and video and it doesn't end at that, you can explore other peoples pictures and videos, follow family, friends, celebrities and just about anybody. On Instagram, users can also send group or personal messages and do other cool things with the App. So you see, Instagram is actually worthy of being called an "amazing platform".
I personally love the direction that technology is moving these days. New things have come in and I hope they have come to stay. Things like Whatsapp Web, Messenger Web and Instagram Web.  Some years ago we didn't have any of them. Today I will show you how to access Instagram on pc.
Cool right? Yeah, I know.
Gone are the days when PC users would have to Install an Android Emulator like Bluestacks on their computers in order to access Instagram and a bunch of other Apps. Android Emulators are good and all, but most of them take up a lot of space and can cause your laptop to be laggy.
So, let's say your Android or IOS device is not handy at the moment and you want to access Instagram. You can actually access Instagram on PC. I will show you a method I personally use to access Instagram on PC. You don't need to install an external app to access Instagram on your PC all you will have to do is open a web page and log in. That's just it.
How to Access Instagram on PC
1. On a web browser go to https://www.instagram.com/accounts/login 
2. Enter your Phone number, email or Instagram username and password.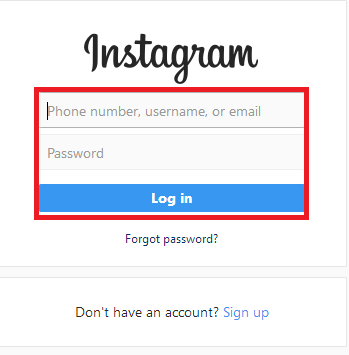 3. Click on Login
And there you have it, that is how to Access Instagram on PC. There is an alternative though. If you are logged into Facebook on your PC and your Instagram has been linked with your Facebook account, all you will have to do is:
On the Instagram on the web login page, click on "Log in with Facebook"
You will be automatically signed in to Instagram on the web. But, if you are not logged into Facebook on your browser you will be required to Log into Facebook. Also note that if you haven't linked your Instagram to Facebook, the second option won't work.
So, there you have it, that's how to Access Instagram on PC, you are free to do so many things as you please. Don't be so happy yet, there are pros and cons or Advantages and disadvantages of using Instagram on the Web. Here there are;
Pros and Cons of Instagram on the Web
Pros
You don't need your devices permission to access Instagram on PC.
You can Access Instagram on PC from any Computer.
Search and follow/unfollow users.
Change password from Instagram web.
Edit your profile.
Cons
You can't send private messages or group messages
You can't upload pictures or videos.
Hopefully, in time, Instagram will embed the ability to send direct messages and messages to groups on Instagram on the web. I hope this article has taught you how to access Instagram on PC. With Instagram on the web you can comment and like images/videos, you can follow or unfollow people and you can also go as far as searching for people using the search button.
Instagram web can be accessed from almost anywhere, all you'll need is a PC, a good internet connection, and your Login details.
Frequently Asked Questions and Answers
Q: I can't log in through Facebook, what's wrong?
A: If you have tried logging in from Facebook with no success, then you should check if you are signed into the Facebook account linked to your Instagram account. You should also check if your Instagram account is linked to Facebook.
Q: Can I open a new account through Instagram on the web?
A: Sure thing, you can create a new Instagram from the login page by clicking on the sign up button.
Q: Can I upload Images through Instagram on the web?
A: Nope, I have searched for a special or hidden button of some sort and there isn't any. If you want to upload an Image or video to Instagram you could use your mobile device. Hopefully, in the future, Instagram will give us a button for uploading images and videos.
Q: I can't sign in, why should I do?
A: If you can't sign in, I suggest you double or triple check your password and username or Email and make sure you are entering it correctly. Wrong details can keep you stuck on that login page for hours.
Q: How Can I log out from Instagram web?
A: This is as simple as saying your first name, you can log out from Instagram on the web by going to your profile, clicking on the settings icon located at the top right and finally clicking on Log out.