Between Vine and Instagram, the battle of video social sharing is in full swing. However, many of us long for the days where we could scroll through our pictures without being interrupted by video.
Instagram provides a stunning medium for sharing photography and images. With the recent introduction of video, the Instagram mobile clients seamlessly starts to play videos as you scroll past them. If you are a fan of videos, the automatic playing of video fits nicely with the overall Instagram experience. However, many of us find that these videos harm the Instagram photography experience.
The photographer uses an image to sell an experience to his audience. Through Instagram you can capture the unique moment in a way that tells a story. Of course, this story is not the actual story. In fact, it might be completely fabricated and false. That picture of your well prepared dinner might have tasted awful, but your Instagram friends would never know. Instagram users know this. I expect those people I follow to tell me a story, not to clinically document the experience.
Video does not hide the warts of life. The picture of the beach may look perfect, but in the video of the beach I can hear the kids screaming and see the wind gusting. I use Instagram because I like the story, I like the photography. Video interrupts that experience.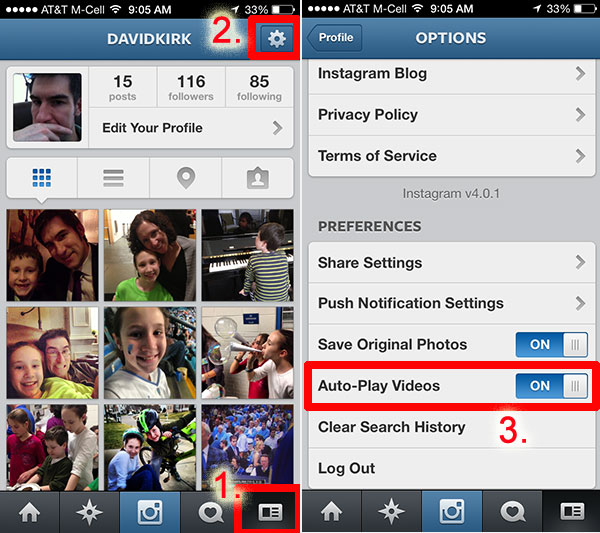 1. Open your profile within your Instagram application.
2. Select the options gear in the upper right-hand corner.
3. Toggle Auto-Play Video to OFF.
Once video auto-play is toggled off, videos will have a "play" arrow in the corner to distinguish them from static images. Clicking this static image will launch the playing of the video.