Since the iPhone 6S can record videos at 4k resolution, the 16GB model will run out of space quickly. Assuming that you have not installed anything or stored any files on your phone, you can only record about 40 minutes of 4K video before your phone runs out of space. Fortunately, it is possible to lower the record setting so that you can store more videos on your iPhone.
Even if you do not have a large amount of videos on your iPhone, it is still a good idea to lower the recording setting because viewing 4k videos on such a tiny screen is a big waste. Furthermore, because the size of a 4k video is quite large, it can be a huge pain to save a back up locally or online.
If you own an iPhone 6 or an older iPhone, you can still change the recording setting for your video. However, make sure that your device is running on iOS 9 or later.
1. Open the Settings app on your iPhone's home screen.
2. Scroll down to the sixth section inside the Settings app, and select the Photos & Camera option.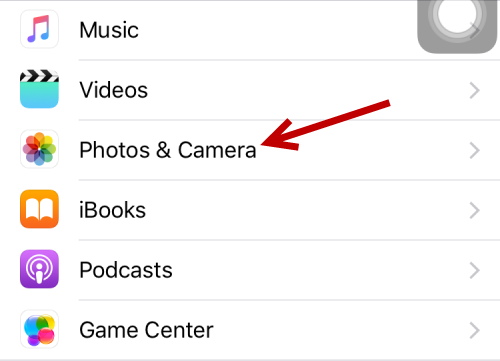 3. Under the Camera section, you will see two options for changing the resolution for normal videos (Record Video) and slow-motion video (Record Slo-mo). Select the one that you want to change.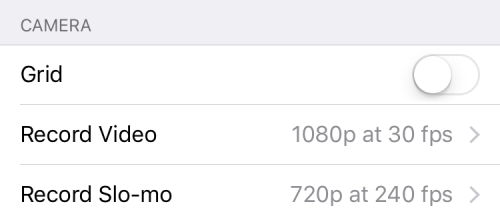 4. For normal videos, iOS on an iPhone 6 sets the default resolution to 1080P at 30fps. If you want to save space, set it to 720p HD at 30 fps. If you own an iPhone 6S, 4K resolution will be available in the list.
According to Apple, one minute of video will be approximately the following sizes:
60 MB with 720p HD at 30 fps
130 MB with 1080p HD at 30fps
200 MB with 1080 HD at 60 fps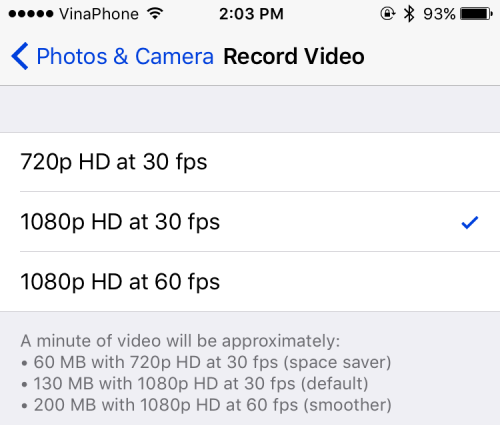 5. For slow-motion video, there are only two options: 720p HD at 120 fps (230MB per minute) and 720p HD at 240 fps (default setting/300MB per minute).