I love the versatility of spreadsheets. I use them at work, at home, and even for keeping score when I play games. Google Sheets is a free alternative to Microsoft Excel that has a mobile and web version. Sheets does not have the full functionality of Excel, but it works well with the touch interface of a mobile phone. I would not use Sheets to manage large datasets or do any serious computation, but it has the functionality that I am likely to use on the go. Google Sheets can be used offline, or it can sync with your Google Drive so that you can pull up all your Sheets on any computer or device. If you do not already have the Google Sheets app, you can download it by following these links for android or iOS.
Do you have a cell with a lot of text? It is often convenient to "wrap" the text so that it will fit itself into multiple lines. This lets you see the full text without increasing the column width, but it does increase the row height.
1.Select the cells that you want to wrap. To select multiple cells, tap one, and drag the blue grab point on a corner to include the range you want. Tap on the format menu on the top of the screen. It looks like an A with some lines to the right of it.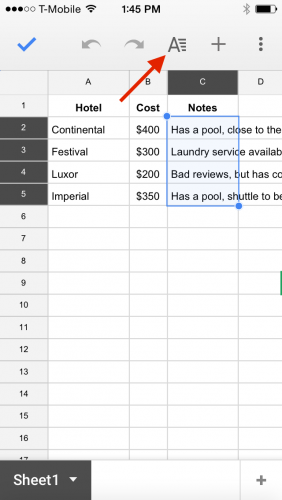 2. Switch from Text to Cell on the top of the format menu. Tap the slider next to Wrap text to toggle it on. The changes will be immediately applied to all the cells you have selected. Note how the row heights were automatically adjusted to fit your content.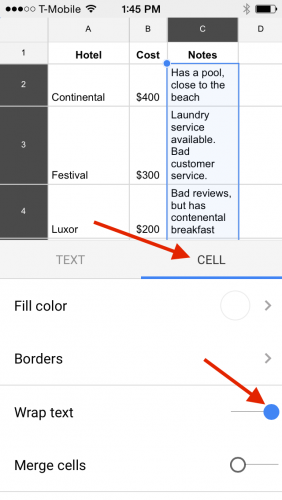 3.Is the row height too much for you? Make your columns wider. Read my tutorial on how to do that here.