You're listening to the emotionally charging and adrenaline pumping sounds of ACDC when suddenly a notification pops up and breaks the whole tempo. Being a music fanatic, that would infuriate me. An arrival of a text, an app update or a notification of any sort, could invade your personal space, and chime down the music volume, without your consent. Well, it's time you took over and ensured the smooth flow of your killer playlist. There are some methods you can use to stop  notifications form interrupting music play back. In this tutorial, I'm going to mention them. You can use the method which suits you best or is most convenient for you.
 How to Stop Notifications from Interrupting Music in iOs
Method 1: Flip the Silent Switch
One effective and immediate way of stopping iOS notifications is by flipping the silent switch on the side of your IPhone. The music will continue to play, but the notifications will no longer disturb you with their incessant and intervening sounds. One caveat to this method is that, incoming calls, will however, stop music playback. Your phone will not ring, obviously(because it's in silent mode), but your music will halt until the call goes to voicemail.
Method 2: Do not Disturb Feature
Alternatively, you can turn on the "do not disturb feature" on your iOs device. it can be found in the setting panel.
1. Go to Settings.
2. Tap Do Not Disturb.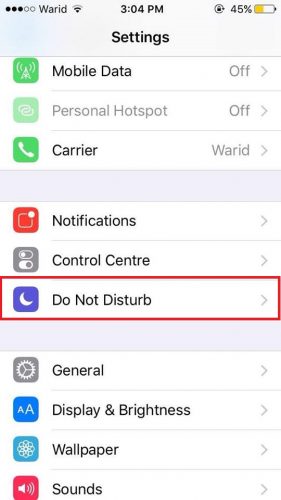 3. Toggle on the Manual Switch. Set other preferences according to your needs.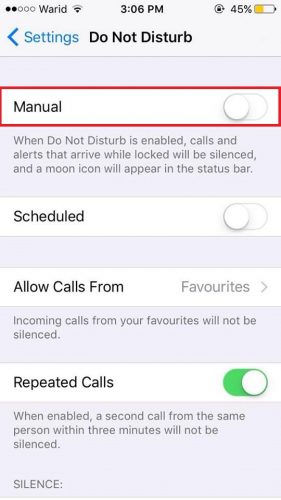 Method 3: Disable Individual App Notification
This is a labored approach to stop iOS notifications. iOs gives you the liberty to deactivate notifications from certain apps. Target apps such as phone and messages, that you know will cause problems while you're listening to music. Here's how to do it.
1. Go to Settings>Notifications.
2. Now, tap on the apps you wish to silence. I chose Messages.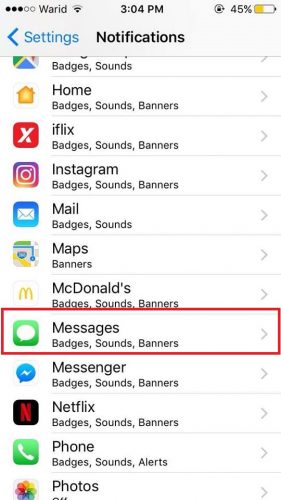 3. Switch off the Allow Notifications option.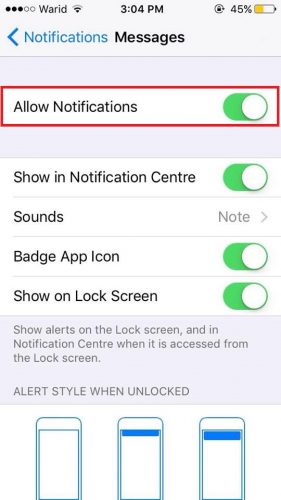 4. Now, tap Sounds.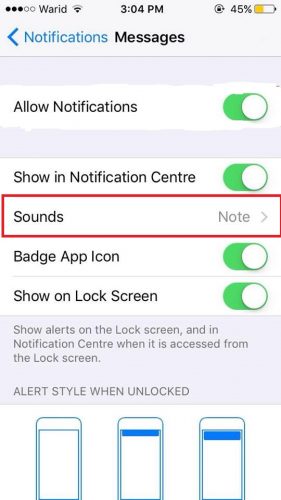 5. Set the Vibration alert tone to None.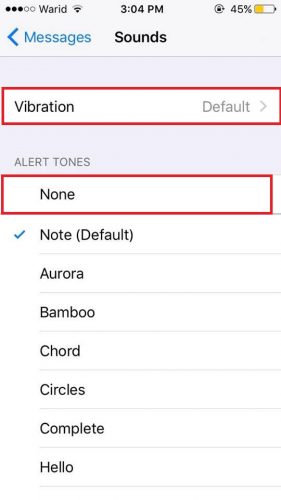 You can do this for any number of apps you desire. And In case of third party apps, you can deactivate notifications altogether with a single flick of the switch.
For Android Users
Method 1: Don't Pause for Android
The Don't Pause app for Android is a really handy app that sets the notification sounds to vibrate and also has many other additional features. The free commercial version doesn't cost a penny, and does the job pretty well. Keep in mind that this application is only compatible with devices running Android 3.0 or higher. So, if you're using an obsolete version of Android, we would suggest updating at the earliest.
Method 2: Set to Vibrate
One way you can stop sound interruptions on your Android device is by setting your device to vibrate. Here's how you can do that.
1. Swipe downward on your main homescreen.
2. Move the sound switch back to zero.
So, these are the simplest solutions you'll find on the web. Other methods are not only complicated, but also quite ineffective to say the least. I tried these out, especially the do not disturb feature, and was able to screen most calls and notifications, without much of a hassle. However, it's up to you to decide which way works the best for you.
Frequently Asked Questions
Why does my IPhone automatically lower the volume?
Sometimes, it so happens, that the IPhone automatically lowers the volume in certain tracks for your own safety. However, if you do not wish it do that, you can disable it. Here's how to do it. Go to Settings>Music>Soundcheck>Turn off. Simple as that. But we would still recommend you to listen songs at auditory safe frequencies.
Still not satisfied with this comprehensive article? Well, just comment below and we'll respond to any questions you have.
Also check out these tutorials related to how stop notifications from interrupting music in iOs and Android, at your discretion.
www.tech-recipes.com/rx/60960/how-to-turn-on-an-iphone/
www.tech-recipes.com/rx/64180/how-to-add-words-to-iphone-dictionary/