If you are bored of what's on offer in the official app store or you just want something a little different, try Emus4U. An unofficial store, it offers users a choice of thousands of app store apps, tweaked apps, modified games, and Cydia tweaks, all for free. Read on to find out how to get it.
How to Download Emus4U:
Open Safari browser and then open the official Emus4U app page
Tap the Download button and wait for the information page to open
Tap on Install Profile and wait; you should see an installation progress indicator on your homepage
If it says "Waiting" tap on it and the installation will begin
When the Emus4U icon is on your homepage, the installation has been successful, and you can use the installer
How to Use Emus4U App:
Using Emus4U is easy; just follow these steps:
Open Emus4U by tapping the app icon
Take your pick from one of the categories – see below
Choose an app or game – browse or search for a specific one
Tap your app or game, tap Install and wait
If you see any other installation instructions on your screen, follow them
When the app icon is on your home screen, it's been successful
Enjoy your apps and games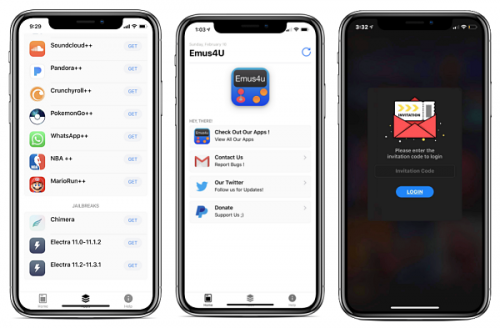 App Features:
Emus4U is overflowing with fantastic content; open the installer, and this is what you will find:
App Store Apps – official apps and games from the iOS store, plus premium apps for free
Emus4U Apps – Cydia tweaks, movie and music apps, screen recorders, emulators and other unofficial content
Tweaked Apps – stock iOS apps with lots of useful extras added
Modified Games – stock iOS games, wholly unlocked and with extra features
Emus4U Problems and Solutions:
Read on for the answers to the most common questions:
I Got an Untrusted Developer Error – How Do I Fix It?
Very easily:
Go to iOS Settings > General
Tap on Profiles and find the developer name in the list
Tap it and then tap Trust
Close Settings, open the app and it will work
Will My Warranty be Voided?
No, absolutely not, not just by using Emus4U anyway. It is a safe app installer and installs with the same permissions as standard apps. It doesn't need root access and doesn't hack into the iOS, so it is perfectly safe. Where Apple may have a problem, should you need to take your device to a repair store, is if you are using a tweak that affects the way your device works – delete it and then reinstall again later.
Is it Safe?
Yes. You don't need to jailbreak, and you don't hack into the iOS security, so it doesn't leave your device unprotected. The developers also issue regular updates so ensure you install them as they are released – if you don't, the developers cannot take responsibility should anything go wrong.
Can I Ask For a Specific App?
Yes. You can use the developer's Twitter feed, making sure you provide as much information as you can. However, they get many requests, and not all apps or games can be added to the installer so don't be too disappointed if your request isn't honored.
Emus4U is one of the best Cydia alternatives available right now, and it is also a great alternative to the official store. Where else can you get this many apps and games, including the modified ones, all in one place?
Give Emus4U a go, it's completely free, safe to use and you can delete it if you don't like it. Don't forget to let us know what you think of it and follow the developers on Facebook for more cool updates.