How to Create Playlists on Spotify Web Player
The Spotify web player is easy to use and has a wide selection of music. It also has good functionality for organizing your tunes and helps you find new favorite ones. Most importantly, a basic Spotify web player account is free. You can upgrade to the paid premium account if you want to be able to download music for offline listening, get rid of ads, and gain the ability to play songs on demand on your mobile device. (Mobile devices can only shuffle play on free accounts; however, you can pick and choose songs from the free web player on your laptop/desktop.) You can create playlists on Spotify web player without downloading anything and sync all your music between devices.
Spotify has a high quality offering of playlists covering a wide variety of genres for your listening enjoyment. You can also pick and choose your favorite songs into as many custom playlists as you would like. Follow the steps in this tutorial to create your Spotify playlists.
First, you will need to create a Spotify account if you do not already have one. Log in to the Spotify Web Player at play.spotify.com.
Add a Spotify playlist
Select Browse from the list of options on the right, and explore the huge variety of music offered. You can look through Charts, Genres & Moods, New Releases, and a special Discover area where you can get new music recommendations based on your Spotify listening history. When you find a playlist that you like to add to Your Music so that you can access it again easily, simply hover your mouse over it in the browse view. Click the "+" to follow the playlist. 
Create your own playlist & add songs to it
You can create new playlists from Your Music or from any song/album on the fly.
1.To create a playlist on the fly, select any song or album by clicking on it or hovering your mouse over it. Click the three horizontal dots that will appear to the right of the album name to reveal a list of options. 

2.Click on Add to…. Next, either choose to add the song/album to an existing playlist, or create a new playlist.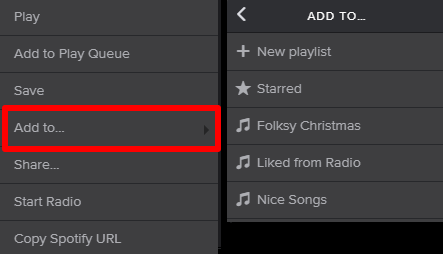 Now, you can head over to Your Music at any time to see all your playlists, both the ones that you created for yourself and the ones you added from Spotify or other users.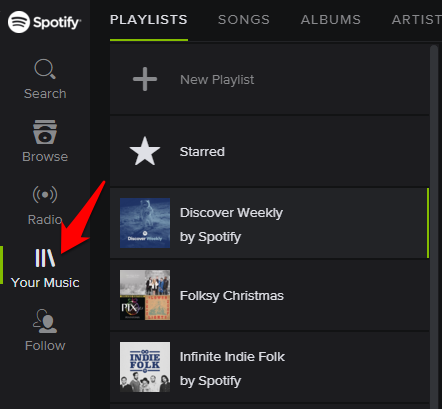 The Conversation
Follow the reactions below and share your own thoughts.