Windows 8 lets users take advantage of the corners of the screen to switch between apps or access common settings faster. However, this feature mostly targets touch screen users, so normal desktop users may not find it useful. If you do not use the feature, you can disable it to prevent accidental clicks when you are working.
You can tackle this through two different methods.
Adjust using the traditional desktop view:
1. Go to the Desktop view, right-click on the taskbar, and choose Properties. If the taskbar is hidden, move your mouse over the area, and it will show up automatically.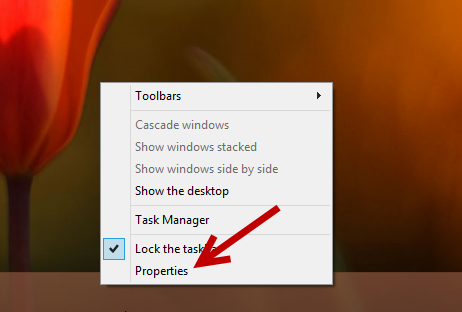 2. In the Taskbar and Navigation properties window, switch to the Navigation tab. Under the Corner navigation section, you will find three options that relate to the hot corners: showing the charms when your mouse is on the upper-right corner, showing the recent apps list when your mouse is on the upper-left corner, and replacing Command Prompt with Windows PowerShell. These three options are enabled by default. Uncheck the option that you find unnecessary, and it will be disabled.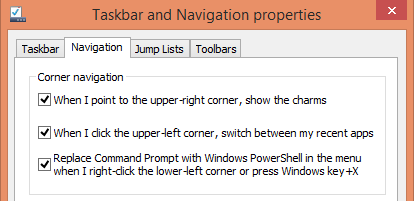 Change using the Metro interface:
1. Move your mouse to the bottom/upper-right corner to show the charm bar, and then choose Settings.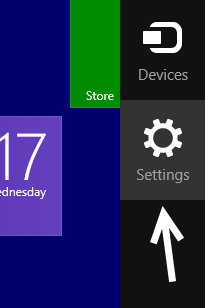 2. Next, choose the Change PC settings from the slide-out panel.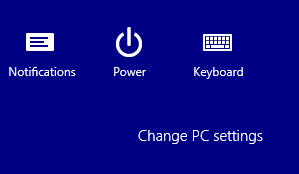 3. In the Metro panel, navigate to PC & devices -> Corners & edges from the left side.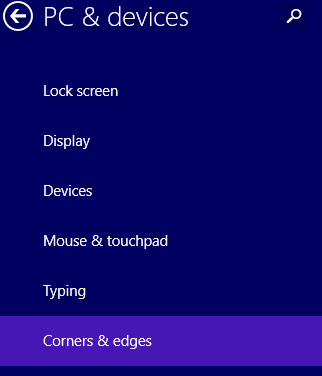 4. On the right side, you will find four options:
a. Allow switching between recent apps. (If disabled, option b and d will also be disabled).
b. When I swipe in from the left edge, switch between my recent apps instead of showing a list of them.
c. When I point to the upper-right corner, show Search, Share, Start, Devices, and Settings.
d. When I click the upper-left corner, switch between my recent apps.
All of these options are enabled by default. Find the one that you do not use, and move the slider to the left side to turn it off. Please note that the Ctrl + X option can only be accessed by using method a.