For 3 decades Microsoft provides us with tools that boos our productivity. In the late 80s Microsoft provided users with Word, Excel and PowerPoint each as a standalone installation. Several years later they released the Office Suite which contained all 3 applications in one installation package.

Over the years as Microsoft developed new productivity applications they constantly added them to the Office Suite, so what began as a bundle with 3 applications in the latest version, the Office 2016, they have over 20 applications in it.
Sometime last year Microsoft announced that they will start working on a new suite, Office 2019 and in April this year they released the Consumer Preview edition. This is not a final version and certain things might be changed, but it is good enough for users to be able to try it out and see if they would be making the upgrade when the time comes.
Since this version is generally meant for corporate users, meaning that most people wouldn't bother with it, users that want to download it will not be able to do it from Microsoft's website. Also, if you are paying for an Office 365 subscription then you have already seen the updates that await other users. This is in case you are not interested in switching from subscription-based service to a one-time paying service. All updated features are available for Office 365 ProPlus and since Microsoft is working on this upgrade it means that they are not available for Office 2016. Apart from new features, Microsoft announced that users should expect some visual changes as well.
Initially, Microsoft released Windows only version of the deployment tool required to get the consumer preview and recently they released a Mac installer as well, so that Mac users will be able to give the new Office a test drive.
How to download Office 2019 Consumer Preview
The procedure to download is somewhat tricky and will require some time to do it. Also, you must have a Microsoft account.
1.Navigate to Microsoft Developer Center and log in using your Microsoft account credentials
2.You will be redirected to a dashboard where you will need to scroll down and click on "Get Started" under "Microsoft Collaborate"
3.In the next section you will need to enter your personal information so make sure that everything is correct
4.Once you complete the registration you will be redirected to your dashboard

5.From the left navigation panel click on "Engagements"
6.In the main section of the page click on "Office 2019 Commercial Preview"

7.Accept the Terms of use and click on "Join"

8.Return back to "Engagements"
9.Click on "Office 2019 Commercial Preview"
10.Click on "Show Packages"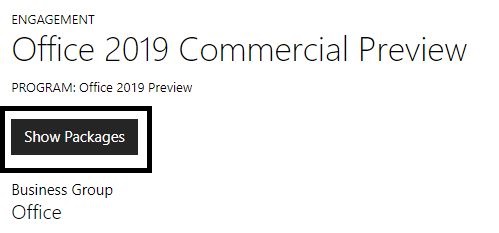 11.Depending on the operating system that you are using select the package. Win32 for Windows and Mac for Mac OS X

12.Once you click on the package click on the download icon on the right of the package name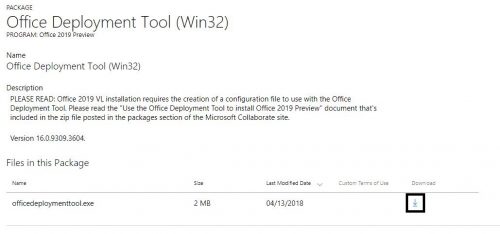 13.Go back to the package list and click on the Documentation package
14.Download the documentation packages as well
As mentioned previously, this is not the classic installer that you are used to. First you will need to unpack the archive with the documentation and go through the documents for steps on how to download and install the new version of Office. In general, you will need to edit the configuration file that is a part of the deployment tool in order to download the version that you are interested in previewing.
Frequently Asked Questions and Answers
Q: What are the system requirements for Office 2019?
A: At this point Microsoft doesn't have any official news on this matter, but they should be the same as the ones for Office 2016. If you don't know the system requirements, you can go through them on Microsoft's support page
Q: Can I run Office 2019 on older versions of Windows?
A: No. Microsoft confirmed that this version of Office will only be available for Windows 10 users
Q: I already have Office installed, will this remove my installation?
A: even though while setting up the configuration file you have the ability to keep your older version of Office it is recommended to remove it, because it might have some compatibility issues.