The black bars around Sony's touchscreens are programmed to perform various functions. Accidentally pressing this bezel can cause unexpected results. These actions can be disabled by these simple steps.
Sony's touchscreen devices are commonplace on their All-In-One series of computers. These systems will be growing even more in popularity with increasing Windows 8 use. These touchscreens have a black stripe (or bezel) that frames the screen in all directions. Sony has a series of actions such as zooming and browser navigation that is programmed into touches to this area of the screen.
However, in many cases, this area of the screen gets touch unexpectedly with confusing consequences. One of my user's did not understand why the screen would suddenly zoom in or out, for example. It turned out that accidental touches to the right side of the screen were triggering the zoom action.
Sony has made these functions easy to disable.
1. Search for VAIO control center from the Windows 7 Start Menu or the Windows 8 Search charm.
2. Select Display and then Touch function settings from the left column of the control center.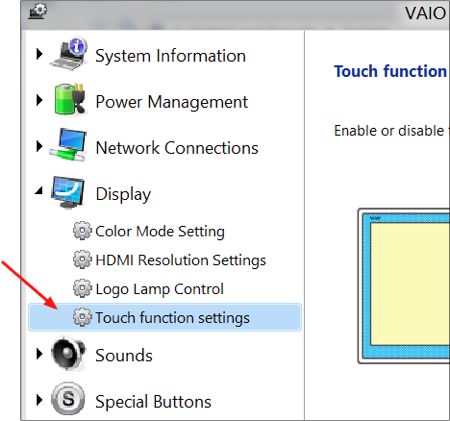 3. Uncheck Enable Edge Access and then press the OK button.