Whatsapp  is rolling out the new live location feature; Some users are yet to receive this update on their Android and iOS devices. Many popular Android apps, such as Facebook Messenger and Google Maps integrated this feature a long time ago. If you share live location on Whatsapp, not only will it inform your friends and siblings or any close relatives of your active physical location, it will also lessen your safety concerns in the process. Sometimes, we feel horribly stuck in certain places, and need directions from a close friend who actually knows the place from top to bottom. In situations like these, this feature can come in quite handy.
My device already has this feature, but I'm not sure if all devices have received the update yet. As we know, apps first beta-test certain upgrades, making it available to only selective users. One of the great things about the Share current Location on Whatsapp feature is that you can decide how long you want to share your location for. It's up to you to share it for 20, 40 or 6 hours. It also has end to-end encryption, so rest assured, because there is little to no chance of your privacy being breached.
According to Whatsapp, the live location feature permits you to share your current real-life location for a predesignated period. You can choose to share it with just a single individual or a group of contacts. In order to share it with multiple people, you'll have to start a group chat with them. If at any time, you decide that you no longer want to share your location, you can do so. However, your contacts or members of a group chat wills still be able to see your last-seen location, before its viewing rights were evoked.
Step-By-Step: How to Share Live Location on Whatsapp
1. Open a chat or a group chat( if you want to inform multiple people of your whereabouts)
2. Tap the + button or the paperclip(attachment icon) on the bottom of the chat, and select Location.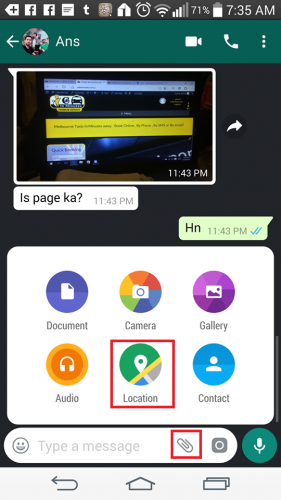 3. A window containing a map will open. A list of suggestions will be provided to you, based on your recent visits. Right above those suggestions, will be the Share Live Location button. Tap it.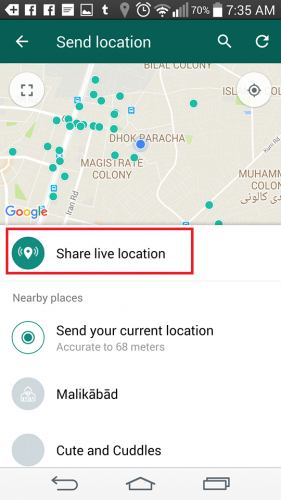 4. Click on Continue.
5. Choose a time period and add a comment, and click on the arrow to finally share your physical address.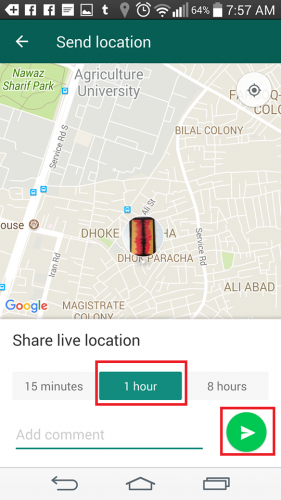 How to End Location Sharing on Whatsapp for all chats
If you've shared your location to multiple contacts, then there's a way to stop sharing, all at once. Here's how to do it.
1. Open your Whatsapp app.
2. Click the three vertical dots on the top right corner and go to Settings>Account>Privacy>LiveLocation.
3. Click Stop Sharing.
It's a simple process, guys! No hassles guaranteed. Now, whenever you go to a dangerous neighborhood or are skeptical about your navigation skills, let a trusted contact know about your whereabouts so that he or she can be your virtual spotter.
Frequently Asked Questions
Can I stop Whatsapp from getting access to my location?
Yes, you certainly can. Just go to your phone settings, and toggle off location.