Word: Insert Current Date and Time into Document
Posted September 20, 2003 by David Kirk in Microsoft Word
Last Updated on
These methods provide easy ways of inserting the date and time into any Word document.
Inserting the time and date is one of the most common activities in a Word document. This works the same way in the Windows (2007, 2011) and Mac (2008, 2011) versions.
Menu Method
1. Go into the Insert menu
2. Select Date and Time
3. Select the format you wish
4. Press OK to insert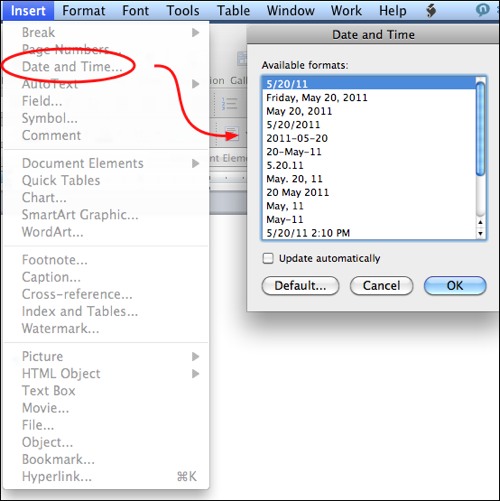 Shortcut Methods
ALT-SHIFT-D – Inserts Current Date at Cursor
ALT-SHIFT-T – Inserts Current Time at Cursor
David Kirk is one of the original founders of tech-recipes and is currently serving as editor-in-chief. Not only has he been crafting tutorials for over ten years, but in his other life he also enjoys taking care of critically ill patients as an ICU physician.
View more articles by David Kirk
The Conversation
Follow the reactions below and share your own thoughts.