Thesaurus in Microsoft Word
Posted September 19, 2003 by David Kirk in Microsoft Word
Last Updated on
All versions of Words have a thesaurus. These are the directions for accessing the thesaurus in each version of Microsoft Word.

We all need help finding the right word sometimes. Using Microsoft's thesaurus is a wonderful tool to improve your authoring skills.
Word 2003
1. Highlight the word
2. Go into the Tools menu
3. Go into the language menu
4. Select thesaurus
Word 2007 and 2010
1. Highlight the word
2. Right-click on the highlighted word
3. Select synonymes
Word 2008
1. Highlight the word
2. Select Tools menu
3. Select Thesaurus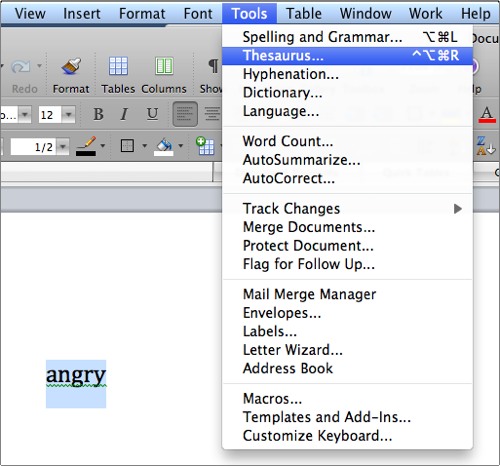 David Kirk is one of the original founders of tech-recipes and is currently serving as editor-in-chief. Not only has he been crafting tutorials for over ten years, but in his other life he also enjoys taking care of critically ill patients as an ICU physician.
View more articles by David Kirk
The Conversation
Follow the reactions below and share your own thoughts.