iPhone iOS 4.1: Disable Typing Auto-Correction
Posted September 8, 2010 by David Kirk in Apple iPhone
You try to text "going to be late, smh" and hit Send. Unfortunately for your relationship, the iPhone corrects "smh" to "Amy." Oh, boy. When texting, using the iPhone can be annoying as it tries to guess what is being typed. The corrections slow me down more than they help. If you find yourself in this situation, turn off the auto-correction feature. Here is how to do it:
I use a lot of names and abbreviations that the iPhone converts to words that make no sense. With heavy use of texting, I notice this a ton. Turning off the auto-correction can make your life easier.
1. Click Settings
2. Click General
3. Select Keyboard
4. Slide Auto-Correction to OFF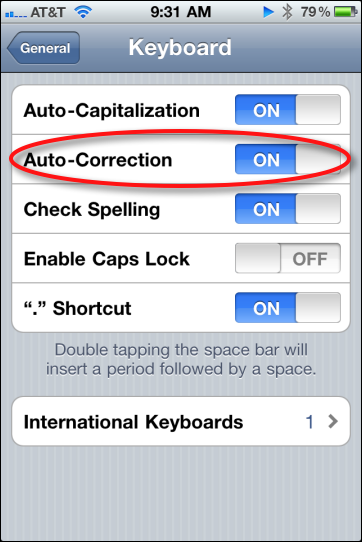 David Kirk is one of the original founders of tech-recipes and is currently serving as editor-in-chief. Not only has he been crafting tutorials for over ten years, but in his other life he also enjoys taking care of critically ill patients as an ICU physician.
View more articles by David Kirk
The Conversation
Follow the reactions below and share your own thoughts.