BlackBerry: How to Reboot or Reset
Posted August 19, 2010 by David Kirk in Blackberry
Last Updated on
"How do I reboot or reset my BlackBerry?" is one of the first questions that new BlackBerry owners ask me. This tutorial documents how to do both the soft and hard resets.
If your BlackBerry device locks up, the first thing always to do is to reboot or reset the phone.
Soft Reset / Reboot:
Press and Hold the alt key, right shift/caps lock key, and del key. Pay attention that it is the shift key on the right. Hold the key combo until the LED light turns red and the screen locks. The reboot process will begin.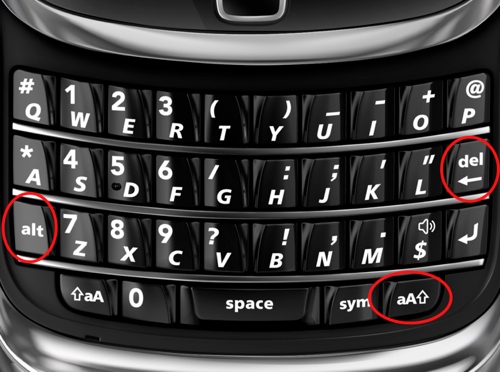 Hard Reset / Reboot:
If the phone is locked so hard that the soft reset does not work, a hard reset is your only option. Open the phone back and remove the battery. Wait a few seconds for the phone to completely go dark and reinsert the battery.
David Kirk is one of the original founders of tech-recipes and is currently serving as editor-in-chief. Not only has he been crafting tutorials for over ten years, but in his other life he also enjoys taking care of critically ill patients as an ICU physician.
View more articles by David Kirk
The Conversation
Follow the reactions below and share your own thoughts.