Lion Mail 5.0: Use Classic 4.x Layout
Posted March 8, 2011 by David Kirk in Apple Mac
Apple's Mail has been upgraded to version 5 with Lion. This allows threaded conversations and multiple other design enhancements. If you dislike the new Mail appearance, you can easily switch back to the old, familiar look and feel of Snow Leopard's Mail.
I absolutely love OS X Lion's upgrades to Mail. Threaded conversations are wonderful, for example.
However, if you do not like the new design, you can make the Lion version of Mail look exactly like Snow Leopard's version.
1. From Mail's Menu select Preferences
2. Select the Viewing tab
3. Check Use classic layout
Default new layout: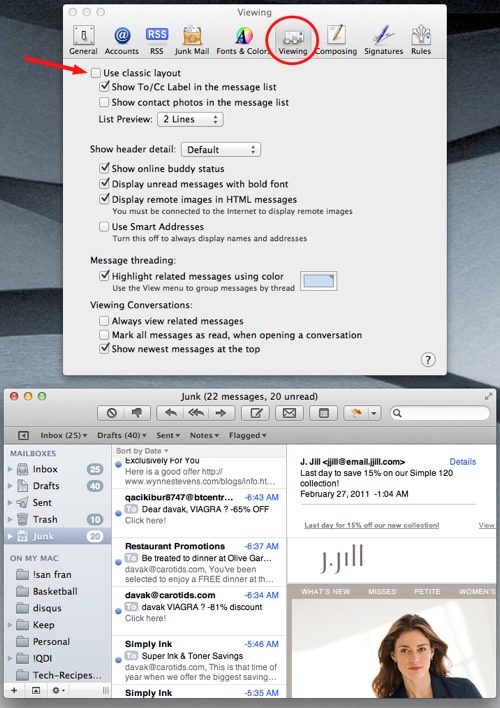 Old Mail layout: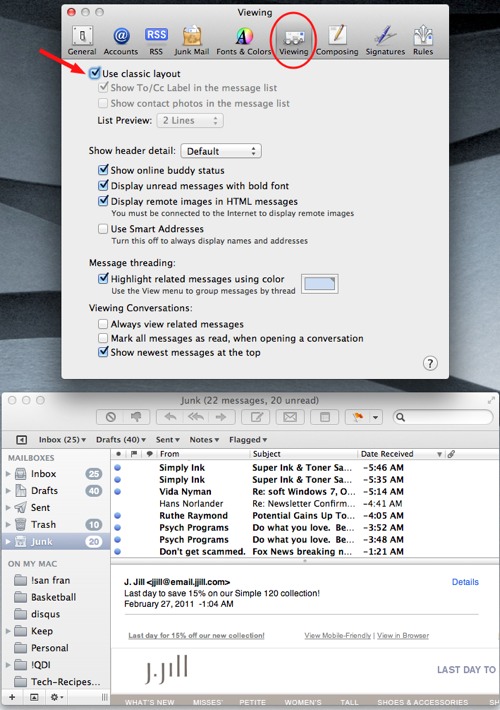 These directions just change the appearance of the new Mail application. This should not be confused with using the old Mail app completely which can be performed via Preferences -> General -> Default email reader.
David Kirk is one of the original founders of tech-recipes and is currently serving as editor-in-chief. Not only has he been crafting tutorials for over ten years, but in his other life he also enjoys taking care of critically ill patients as an ICU physician.
View more articles by David Kirk
The Conversation
Follow the reactions below and share your own thoughts.