Using these simple adjustments should greatly improve uTorrent download performance.
Are you tired of uTorrent's sluggish download speed that does not take full advantage of your high speed internet? This is a very frequent complaint among uTorrent users that can be fixed by tweaking uTorrent's settings.
For this tutorial we are going to assume that you have uTorrent running and a torrent is being downloaded.

As you can see, our current speed is only at 146kB/s. Considering my broadband capabilities, I am not using my entire download potential.
1. Bring up the Preferences window by either pressing Ctrl+P or clicking Options -> Preferences.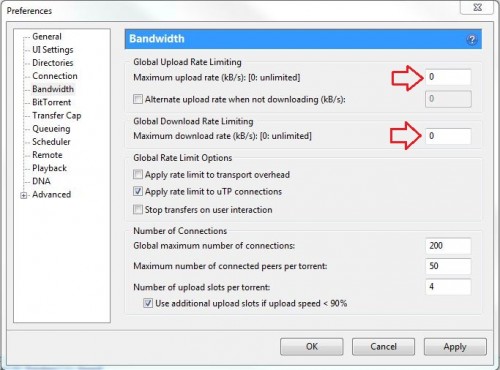 As you can see both maximum upload and download speeds are set at 0. uTorrent even tells you that 0 means that your download will be executed at its maximum potential. In many circumstances, however, this is not the case.
2. Now we have to change the download speed to something much higher than the expected allotted bandwidth. We will use 3000kB/s. You will likely set the upload speed to as little as possible; however, do not set lower than 7kB/s. We'll use 8kB/s.
Note: If you set the upload limit to below 7kB/s, uTorrent will cut off your download speed exponentially.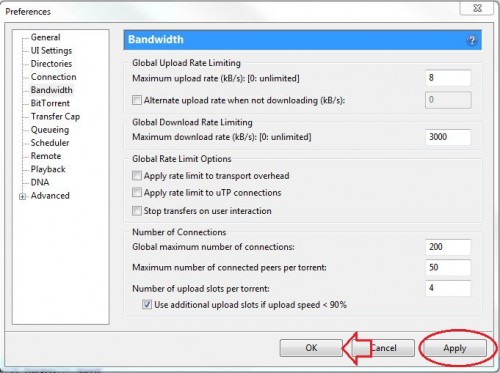 3. Press Apply then OK.  
Congratulations you're done. If this works for you, you should soon notice an increase in your download speeds.
Through these steps, I have increased my download speed almost by a factor of five. Obviously, your mileage and success will vary on your broadband potential. In many cases, however, this tweak will dramatically improve your torrent download speeds.