Hello loyal reader, Today article is centered on Twitter, I know many people who have come to me and asked me in the past. Hey Beejay! How do I change Twitter Username? Well, the same thing I told them is the same thing I will teach you.
On Twitter, your username, or handle, is your identification. You can sign up for Twitter by using your name or a variant of it as your username (assuming a person is not already utilizing it). For example, in case your name is John Ira, you may want to opt for a Twitter username corresponding to @johnira or @john_ira.
Twitter usernames more commonly appear with a @ sign earlier than the title. In view, that's how you refer to other users on Twitter. However, whilst you're making a choice on a username, the @ isn't part of it. The only characters you should utilize are uppercase and lowercase letters, numbers, and the underscore character ( _ ).
Let's go on then and talk about how to change twitter username.
How To Change Twitter Username
1. Go to the Twitter.com on your Internet browser. If you've logged into Twitter already, doing so will open your Twitter homepage. If you aren't? Input your details and log in.
2. Click your profile image.

3. Click on Settings and privacy.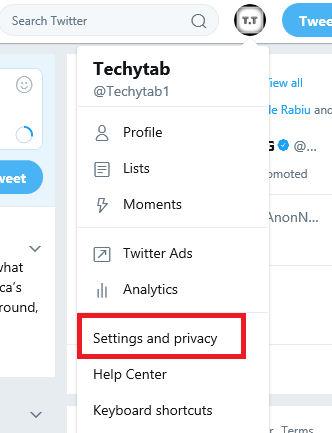 4. Enter a new title within the "Username" area.


If your username is accepted, you'll see "Available!" listed above the "Username" subject.
5. Press Enter. This may occasionally bring up a pop-up window with a password entry field.
6. Input in your Twitter password. Do so within the pop-up window. and Click on "save changes".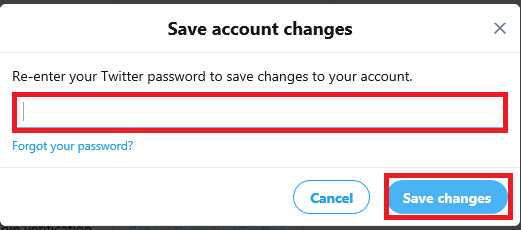 And there you have it guys, that wraps up this article on how to change Twitter username. If you have been having difficulty or looking for how to change Twitter username, I hope this article helps.
Frequently asked questions and answers
Q: How do I change my Twitter title without losing my followers?
A: Changing it won't make you lose your followers and it won't delete your followers.  You should announce to your followers that you simply made the change.
Q: Will people be able to find me with the old Username?
A: I am not sure about this, users will need to input your current username into the search bar if they want to find you on Twitter.
Q: How do I revert back to my old Twitter username?
A: All you have to do to change twitter username back to the previous username is to follow the same process and change your current twitter username to the new one.
Here are some other cool articles that are Twitter-related
How to Get Your Twitter Posts (Tweets) to Show Up on Facebook
How to verify Twitter Account
How to post A tweet on Facebook