We all have relatives living around the globe. Sometimes, it so happens that one of your best friends emigrates to a foreign country and you feel completely alone. In times like these we can whatsapp an international number and save ourselves from the pinching sadness. In ancient times, before the advent of messaging apps, such as Whatsapp, it was impossible to instantly get in touch with our distant friends. But now, the game has changed. The obsolete methods of communications, such as sending letters by post have been superseded by the invention of Whatsapp. Initially, International calling was expensive and it wasn't a luxury everyone could afford. But now, International calling doesn't cost you a thing, all thanks to Whatsapp.
Whatsapp has revolutionized how people communicate with each other. It's an app that is available on all platforms — the iOs, Android and Windows phone. And the best part— it doesn't cost you a dime. Missing your partner who is in a remote country? just take out your Smartphone from your pocket and dial their number on Whatsapp or send them a " cute text" to inform them of your lovesickness. It's that simple! Whatsapp has amassed over a billion users in just a couple of years. That statistic proves it is an indispensable asset for Smartphone users nowadays. Not only does it make domestic calling and texting a breeze, it also provides excellent services for International communications.
However, some people make certain mistakes while adding International contacts on their phone. They miss subtle details, without which, the communication can't take place. That is why I have devised this in-depth guide for people who want to Whatsapp an international number.
How to Add an International Contact on Whatsapp
It's highly important that you correctly format the International number. If you have any confusions about the country code, head to the Whatsapp country code list which can be found here. It is a comprehensive list containing the calling codes of every country in the world.
1.After finding the correct country code, start your number with a plus sign (+). Follow up the plus with the country code. For example, I have a friend who lives in the United Kingdom. The country code for UK is 0044. Omit the zeros and replace them with a plus sign like this : +44 . After the country code, type in their Whatsappnumber. The final number will look something like this.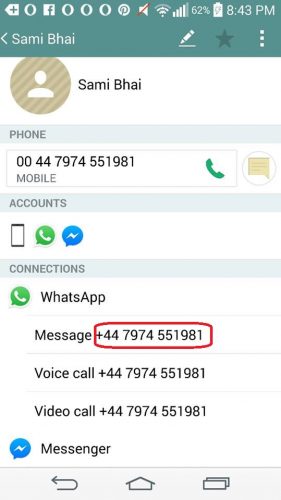 2.You can then choose to message, voice call or video call them depending upon your needs.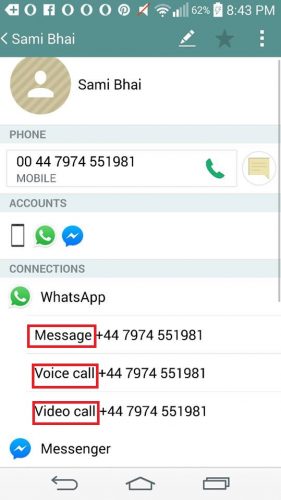 That's how simple it is to Whatsapp an International number. It's better to follow all the instructions properly to avoid any complications. Sometimes things are so simple, but we miss tiny details and end up complicating the whole process.
Now, you can talk for long-hours with your best friend living in Argentina, Brazil or in any part of the world with exemplary ease. I know, it's not a permanent cure for your lovesickness, but it's still something. It's still better than sending pigeons and waiting for weeks to have your message delivered. I read about how Kings used to send emissaries to deliver a short message and I wonder how agonizing it could've been for us if not for Whatsapp or other Instant messaging apps. I mean, I already have to pay Student loans. I don't have much to spare for messengers.
Anyhow, I hope you now understand how to whatsapp an international nukmber. If you have any further questions, check out the FAQ.
Frequently Asked Questions
What is the proper format for adding Whatsapp contacts having a UK number?
If you friend has a number similar to this one : 07974551981, it is important to omit the starting zero while adding the contact on Whatsapp or your contact list. So the final format should be +447974551981.
Are their special Instruction for adding Argentinian contacts?
Yes, there are! All Argentinian contacts should contain the number 9 between the country code and the area code like this : +549(Whatsappnumber). . Moreover, make sure you remove the prefix 15.  After removing it, the final number will contain 13 digits.
What about Mexican numbers? is there a unique format for them?
One tiny detail needs to be kept in mind while adding mexican numbers. After the country code(+52), 1 must be included before entering the Whatsapp number. 
This will hopefully elucidate further on the tutorial : how to Whatsapp an international number". Check out related articles on Whatsapp for further clarification.
www.tech-recipes.com/rx/63695/how-to-create-a-group-on-whatsapp/
https://www.tech-recipes.com/rx/62428/how-to-use-text-effects-on-whatsapp/
If you still have any questions on " How to Whatsapp an International number" Leave your question in the comment section and I'll be happy to help.