Dropbox is one of the coolest, most useful services around. Out of all the cloud services, it has been the easiest and most efficient. All new accounts start with 2GB free, but using these tips you can get even more free space.
I love using Dropbox. It's a great service. Using it I have found that I really do not depend on USB drives for moving large content anymore. However, the difference in price between the free account and the smallest paid account is pretty substantial. Using these tricks you can easily increase your dropbox space by 50% or more.
Referrals
Sign-up from a Referral Link. If you don't have an account yet, find somebody to refer you. You will both be rewarded with extra space. Here's our referral link to get you started.

Refer other people. One you have your account started, each referral to your friends that is accepted gives you both 500 MB of bonus space.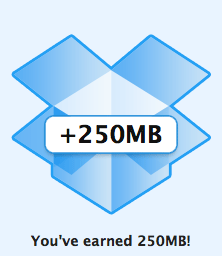 Earn Bonus Space
Complete the Tour. Once you log into Dropbox with your account, be sure you walk through the free tour. Completing the steps there will net you a cool 250MB upgrade.
Connect to Dropbox Socially. By associating dropbox with your twitter and Facebook accounts, you can increase your space by an additional 640MB of space.
Upload photographs and images. For each 500MB in photos you upload to Dropbox through the photo sharing feature of the Dropbox application, they will increase your size for 500MB up to a total of 3GB. This works for iOS, Android, Windows, and Mac systems.
Linking Dropbox to your iOS Mailbox app account will give you additional space as well.