I am sure you must have been wondering how to change Google Chrome search engine, well here's good news for you, it is possible and I am going to show you the steps to achieving this in this article.
We need to first understand some terms.
What is "Google Chrome"?
Chrome originally as it was being a browser was developed by Google in 2008 to aid surf the internet easily via the web. It holds lots of amazing features that are durable for our innovative jet age, features like automated configuration to download and install updates whenever they're available, synchronization with Google accounts, in-browser translation, quick spell checks and incognito mode.
Chrome currently holds about 2 billion installs because of its user-friendly interface and understandable syntax.
Having understood that let's look at search engines.
What is a Search Engine?
A search engine can be defined as a software program that is designed to search and identify programs in a database according to user's specification. Mostly it searches for sites on the World Wide Web(www). The result of the search may be images, web pages or other file types.
With a clear understanding of what google chrome is and what a search engine is, you can now decide to change google chrome search engine due to the fact that the search content of your current search engine does not provide your desired results. But you must first assimilate the different types of search engines.
Now you are sure that you want to change google chrome search engine, please follow the steps I'll be listing out.
How to Change Google Chrome Search Engine
1. Log in your Google Chrome browser.
Click on the google chrome icon on your desktop or open the app on your Android device.
2. Click on the dotted line at the top right.
At the top-right of your screen just beside the dashboard where URL (uniform resource locator) is located, you would see three dotted lines vertically arranged below the close button.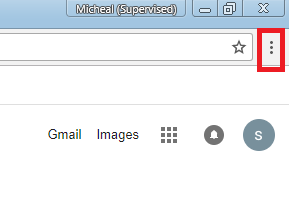 3. Click on settings.
4. Scroll down to the search engine tab. 


5. Choose your preferred search engine.
You would find a list of 3 options namely, Google, Yahoo! and Bing. Select from these 3 the one you want to make the default search engine in your chrome browser.


If you have followed these steps we have listed out, we guarantee that you'd have no issues with changing your google chrome search engine. Sometimes you may just want to explore other options by trying to use other search engines, well, all you need to do is just follow the above-listed options and you'll still achieve the same result.
Thanks for reading. So, we've given to you. Wanna give back to us? well, you can do us good by sharing this article across your social media accounts
Frequently Asked Questions and Answers
Q: How often can I change Google Chrome search engine?
A: You can change google chrome search engine as much as you want, there are no limits.
Here are some related links you may find interesting:
How To Enable Location Services On Google Chrome
How To Restore Last Session On Google Chrome
How To Recover Deleted Bookmarks in Google Chrome
How To Change Google Chrome Background | New Look