If you are frequent with Gmail you should know that when using your PC to access Gmail, it doesn't notify you when you have a new Email. But not to worry. This post will teach you how to enable Gmail desktop notification.
Desktop Notification helps you get alerts for new messages or other notification that may likely appear on the top screen of your device, which stays for about 13-15 seconds before fading away if you don't tap on or cancel it yourself.
Sometimes, important information troops into your Gmail account, information that you may need to attend to urgently, but due to the fact that you don't open your Gmail account often, you end up missing that email that could probably make you lose a life-changing opportunity.
I did a recent survey and I found out that many Gmail users do not open their accounts often to check Email updates.  Some find it stressful, others find it boring.
Let's say you are expecting an important mail and you don't want to go through the stress of refreshing the Gmail tab on your web browser. You can simply enable Gmail desktop notifications. With this activated, you'll receive desktop notifications whenever a new Email comes in.
Desktop notification gets you pop-up notifications on your desktop whenever you receive a new email. Notifications also come with a short text. This helps you to know what the mail received is all about at a quick glance.
These notifications are only currently available for just the following browsers: Chrome, Firefox, and Safari.
Here are some reasons why you should enable Gmail Desktop Notifications.
Reasons Why you should Enable Gmail Desktop Notification
When you enable Gmail desktop notification, it notifies you on any message that comes into your Gmail account.
It serves as a reminder of new messages that you may need to respond to immediately
It eases the stress of always wanting to sign in to your Gmail to check updates.
Note: You don't have to install any application to get this done, Gmail has an option for it, all you need to do is read carefully with understanding.
Alright, are you ready? Here goes;
How To Enable Gmail Desktop Notification
Like I earlier said, you can enable Gmail desktop notification in Chrome, Firefox, and Safari. But on this post, I'll talk about Chrome.
1. Open Gmail from chrome and sign in.
2. Click on settings in your Gmail.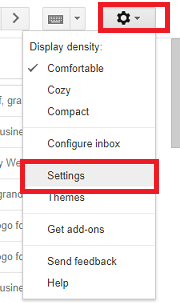 3. Tap on the General tab.
4. Scroll all the way down and tap on "new mail notifications on" to switch it on.


On the desktop notifications option, you will see three options to choose from, Select an option that suits you. When you are done selecting your convenient option from the once listed, scroll and tap on the "Save Changes" to complete the process.
So, there you have it. That wraps up this article on how to enable Gmail desktop notification. If you experience any issues while trying to enable Gmail desktop notification, drop a comment and we will be of immediate assistance to you.
Frequently Asked Questions And Answers
Q: Can I use this feature for more than one Gmail Account?
A: Yes, you can use this for as many accounts as you want. Just turn on the settings for each account and watch the notifications troop in.
Q: I am not receiving any Gmail desktop notification.
A: You are probably missing it. Once you enable Gmail desktop notification, you should start seeing notifications when new Emails come in. The notifications stay on your desktop screen for about 13 – 15 seconds. It could be less. So, if you aren't seeing any notifications. You might be missing it.