You spend hours every day staring at a Chrome window. Why not make it awesome? The Chrome Web Store has hundreds of themes you can use to paint your Chrome window. You can show your love of your favorite TV show or video game, or you can choose a breathtaking photograph. Do you want to keep things simple? You can also choose a basic color palette to personalize your Chrome without getting flashy.
Your theme image will be fully visible on the New Tab screen. Many themes also affect the color/pattern of your tabs and bars at the top of the Chrome window.
Install Themes in Google Chrome
1.Visit the Chrome Web Store, and click Themes in the left panel.
2.Scroll through the tiles of themes. If you want to search for a specific one, type it into the search bar in the upper left corner of the Web Store. Unfortunately, the search bar will pull results from all categories: apps, extensions, and themes. Scroll to the bottom of the search results to see the themes.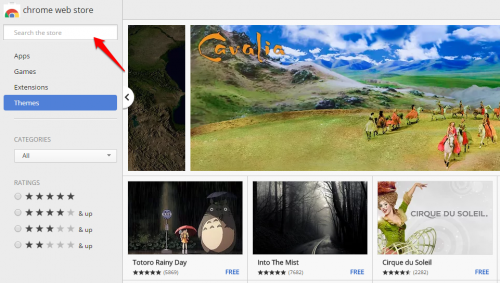 3.Click on a tile to view more details about it. Click through the tabs to read an overview, reviews, support, and related themes/apps. I recommend checking out the ratings and reviews at least briefly to make sure that the theme is not buggy. When you decide you want to apply the theme, click the  Add to Chrome button with a paintbrush in the upper right corner.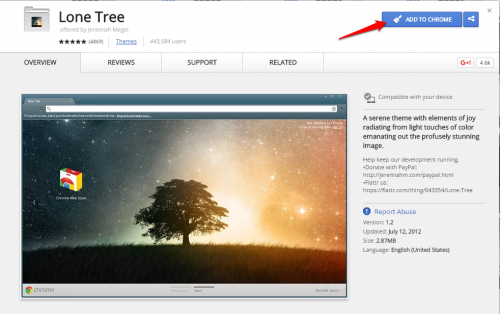 4.You will get a pop-up message giving you a chance to undo your choice until you navigate away from the page. If you decide later that you do not like the theme, you can go ahead and install another one. If you want to clear all themes and go back to the default, click on the menu icon  
 in the upper right corner. Go to Settings. Click the Reset to default theme button in the appearance section.