I frequently receive questions from people asking me about foursquare. What does "off the grid" mean? How do I hide my location from my friends? This brief tutorial shows how to set your foursquare status to "off the grid" and thus hide your check ins from your foursquare friends.
If you are going for your colonoscopy, you probably do not want to share that with your foursquare friends. Do you really want everybody to know about your colon? Traffic court? Divorce lawyer?
Of course, you still want the foursquare points, right? So just check in and keep it hidden from everybody.
After you select to check in, you can toggle No in the Share with friends? box.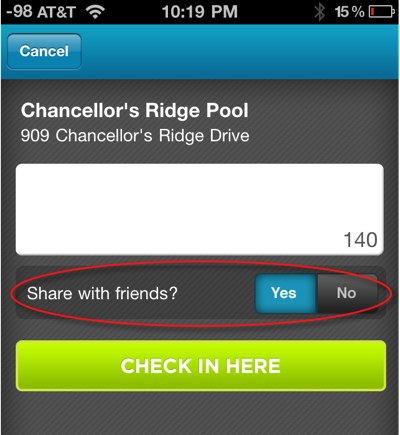 By doing this, you will receive the points (and possibility badges) for your check in; however, your location will show as [off the grid] to your friends.

If you find you are using "off the grid" excessively, then you are missing the point of foursquare. If your friends cannot find out what you are doing, there is really no point. Most people that do not like foursquare started off sharing their location on twitter and facebook. Twitter and facebook is just not private enough to share your location information. Turn off any methods being used to push your foursquare updates to twitter and facebook and just use foursquare alone to share your location data. Save your rare "off the grid" updates for your colon.